By Aaron Miller-
A seventh unidentified officer has been put on administrative leave in connection to the killing of Tyre Nichols, as well as two members of the city's fire department.
America was in a state of  horror following revelation that five  Memphis police officers  were charged with murder over the weekend, after  footage emerged of them  beating Tyre Nichols.
Footage of the 7 January arrest which led to the joint attack from the officers that culminated in the killing of Mr Nicholls, showed no signs of the dead man resisting.
All the officers  involved in this atrocious killing are black, a far cry from past cases where white officers have been  guilty of killing a black man, given all the commotion about police racism in the U.S which has often sparked massive protests.
No issue of racism arises with this callous murder in which the black cops physically battered a man of their own race to death, in what looked like a crazy scene out of a horror movie. All hell would have broken loose had the cops been white, calls for a professional  expert assessment of what drove  five black cops to act so barbarically have already been made.
In the present climate of high agitation against police brutality in the U.S, the cops would have to be have been seriously drugged not to blink an eye on the prospect of murdering someone with such blissful ignorance. What on earth possessed them?
US President Joe Biden said he was "deeply pained" by the "horrific" clip.
Lawyers for Mr Nichols' family likened the assault to the 1991 police beating of Los Angeles motorist Rodney King.
Protests were generally peaceful, unlike the mayhem that usually erupts when  took place in Memphis on Friday night after the video was released, with some demonstrators blocking a major highway in the city, while small-scale demonstrations were held elsewhere in the country.
Many protesters held banners demanding justice for Mr Nichols and an end to "police terror", the difference this time for Afro Americans in the country being that one of their own committed this heinous crime- meaning they must  begin their searching questions internally this time.
 Alleged Reckless Driving
Police initially said Mr Nichols had been stopped on suspicion of reckless driving, which has not been substantiated. He died in hospital three days later, on 10 January..
Memphis Police Department released four graphic videos of the traffic stop and its violent aftermath on Friday, totalling more than an hour of footage.
Mr Nichols died three days after an encounter with police at a traffic stop
The first clip shows officers pulling Mr Nichols out of his vehicle and shouting at him to get on the ground.
"I didn't do anything!" he says. Officers demand that he lie down flat.
"Get on the [expletive] ground!" one officer shouts, as another is heard saying: "Tase him!"
An officer shouts: "Put your hands behind your back before I break your [expletive]."
"You guys are really doing a lot right now," Mr Nichols says to the officers. "I'm just trying to go home."
Within seconds one of the officers fires a Taser at Mr Nichols, who leaps up and manages to run away.
A separate video, from a CCTV camera mounted on a utility pole, shows officers beating Mr Nichols after catching up with him in a residential area.
Two officers are seen holding Mr Nichols down while others take turns kicking and punching him and striking him with an expandable baton.
They drag him across the ground and prop him sitting up against a squad car. More than 20 minutes elapse until an ambulance is seen arriving.
He was stopped by police at around 20:30 at the junction of East Raines Rd and Ross Road in Memphis, but he fled south along Ross Road before he was apprehended near Castlegate Lane after a second confrontation with police.
The third and fourth videos show police body camera footage of the beating, with Mr Nichols being held down, pepper-sprayed and assaulted as he repeatedly shouts: "Mom!"
The videos also show officers milling about recounting details of the incident as Mr Nichols lies slumped against the car.
Killed: Tyre Nicholls                                                                                     Image: AP
Some of the officers claim Mr Nichols "swung" at them or reached for their guns, allegations not apparent from the video footage.
The cops can also be heard saying that nothing was found in his car.
Mr Nichols' mother, RowVaughn Wells, has said her son was only about 230ft (70m) from home when Memphis police officers "murdered him".
The first part of the hour-long video showed the officers pulling over the young man, forcing him out of the vehicle and onto the floor.
One of them is heard to say: "B**ch put your hands behind your back before I break them." An officer then threatens Nichols that "I'm going to knock your ass the f**k out."
One of the lawyers, Antonio Romanucci, said: "This young man, by definition of the law in this state, was terrorised."
The officers all face charges of second-degree murder, aggravated assault, aggravated kidnapping, official misconduct and official oppression.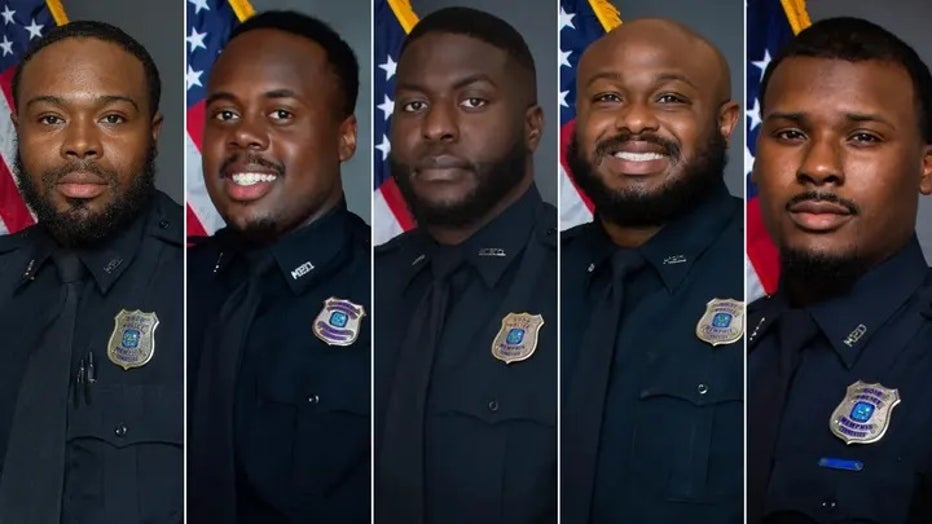 Five former Memphis Police Department officers have been charged with second-degree murder and other crimes in the arrest and death of Tyre Nichols
Four of the five posted bail and were released from custody by Friday morning, according to jail records.
Lawyers for Mr Martin and Mr Mills have said their clients will plead not guilty.
Memphis Police Director Cerelyn Davis described the five officers' actions as "heinous, reckless and inhumane".
David Rausch, the director of the Tennessee Bureau of Investigation, said he was sickened by what he saw in the police body-worn camera videos.
"What happened here does not at all reflect proper policing," he said. "This was wrong. This was criminal."
Steve Mulroy, the district attorney, said the five officers have been charged with second-degree murder, aggravated assault, aggravated kidnapping and official misconduct at a news conference on Thursday.
He said that after Mr Nichols was stopped in his car, there was "an altercation" and officers used pepper spray on him.
Mr Nichols fled on foot.
"There was another altercation at a nearby location at which the serious injuries were experienced by Mr Nichols," Mr Mulroy said.
The Memphis police department said in an initial statement that an ambulance was called because Mr Nichols "complained of having a shortness of breath" and that he was taken to hospital in critical condition
Reverend Al Sharpton, who will deliver the eulogy for Mr Nichols on Wednesday, asked protesters to "remain non-violent", saying unrest would only help the defendants.
In a tweet the civil rights leader said the "sad reality" was police brutality would be "an ever-present threat for Black and Brown Americans unless cops continually see that those who use blunt force will go to jail".
Reverend Sharpton notably made no comments about the fact that this time the murdering police officers were all black.
The protests around the country have so far been largely peaceful, which Mr Nichols' family had called for, saying they didn't "want any type of disturbance".
Meanwhile, Emerald Garner- the daughter of Eric Garner killed by police in 2014- told NewsNation that the footage was shared like "a premiere of the movie", saying that law enforcement's handling of the video was another example of "just how they do things".
"The fact that we waited for this video to be released like it was an exclusive movie that needed to be premiered on a certain day, it really boils my blood. It's just heart-wrenching," she said.
She added: "Tonight was a direct show of just how they do things. You held the video. Why? Why couldn't the family get their closure at the moment that they needed it? It had to be controlled by this system.
"You held it like it was a premiere of a movie that needed to be watched by the world – a public lynching."
The murder trial for this case will be a very strange and widely observed one
Share On

Categories

Date