By Eric King-
An Essex dog owner has been threatened with court action by Estuary Housing in Essex. The man, who is insisting on anonymity, recently had two of his dogs stolen by an acquaintance and sold to a drug dealer.
The dog owner who was being investigated by the RSPCA because his dogs are believed to be dangerous, left his dogs at the residence of his acquaintance to look after them for him.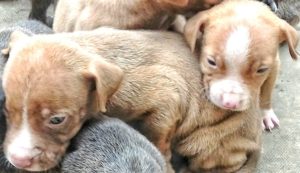 Someone who knows the acquaintance told the eye of media.com the dog owner only left the dogs with the man because he was fearful that the RSPCA would take the dogs from him. The friend who refused to disclose his name said the accused acquaintance sold the dogs to give them a better life with new owners.
The dog owner is accusing his acquaintance of theft and has reported it to the police, but the RSPCA and Estuary housing are believed to be investigating the counter allegation of maltreatment alongside the perception that the dogs are dangerous.
Estuary Housing who supervise the array of residences in the Kursaal estate in Southend has threatened to take the tenant, who is the girlfriend of the dog owner, to court. A letter from Estuary housing seen by the eye of media.com makes it clear that Estuary housing will seek to repossess the property from the tenant unless the dogs are removed from the property.
The dog owner told the eye of media.com " they are picking on me. If they want to take my dogs from me, they have to do the same to all other dog owners. Estuary Housing has not produced a single evidence to back their claim that my dogs are dangerous. They are just harassing me and being a nuisance".
PERMISSION
Estuary Housing refused to discuss the issue with the eye of media.com without the written permission of the man or his girlfriend, who is the tenant of the property. After a week of waiting for the tenant to provide the requested letter, it has still not be done. Yet, the problem persists.
SOCIAL SERVICES
This week, social services and Estuary housing arranged a meeting with the school of the tenant' s six-year-old daughter to discuss the safety of the child in a house accommodating five dogs that include a staff bulldog and a pit bull. "They are trying everything they can to take those dogs off me, but they will not succeed, the dog owner stated.
Meanwhile, the angry dog owner has threatened to blow the drug dealer' s cover once he finds out his base. " Estuary housing should concentrate on addressing the drug dealing that occurs in their very Estate, the dog owner said. They are putting their energy in the wrong place. I have a right to keep those dogs, and they have no right to take them from me".
Share On

Categories

Date