By Tim Parsons-
Boxing Promoter Eddie Hearn is trying to tempt Wladimir Klitschko into a lucrative rematch with Anthony Joshua .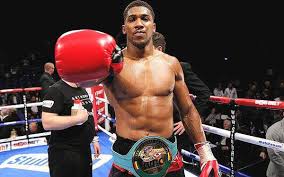 Joshua stopped Klitschko in the 11th round of their thrilling contest in April, but was nearly stopped himself before he eventually came from behind to win the fight. The tough and exciting contest has got Hearn excited at the prospect of a lucrative rematch, with Las Vegas being the front-runner of potential venues to stage a rematch.
Klitschko took time out with his fiancee whilst deciding whether to activate a rematch cause in hs contract with Joshua. That contract was not valid, requiring Joshua to request an exception to the usual requirement for a mandatory fight to defend his belts.
Joshua was given the nod by the IBF- a nod the eye of media.com concludes to have been unfair to Tyson Fury, who was denied the opportunity of a rematch when in a similar positin just after he won the three belts from Klitschko in 2015.
The IBF claim Fury was denied because he didn't request an exception, but the real reason he must have been denied was because the IBF couldn't stand his attitude.
Promoter Eddie Hearn told Sky Sports that he has held recent negotiations with Klitschko's manager Bernd Boente, and believes the 41-year-old could be tempted by a world title fight in Las Vegas.
"I have been in talks with Bernd Boente and the team," Hearn told Sky Sports News HQ. "We're getting close now to identifying the real options in terms of venues and locations.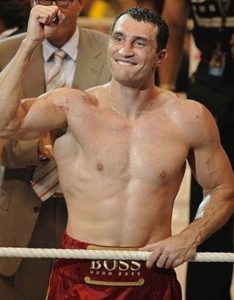 "Vegas has taken a little bit of a front-runner in those. I know the British fans would love to do a trip out there for Joshua-Klitschko.
"Nigeria is still in the mix, Dubai as well, and of course Cardiff. But like I said, Vegas has probably got its nose in front at the moment.
There is a strong feeling that Klitschko has been considering retirement instead of risking a consecutive beaten in the hands of the heavy handed Joshua. However,Eddie Hearn is intent on flashing some serious money before Klitschko to lure him into the fight. Klitschko has made enough money not to be tempted by more money, but former heavy world champions have a high spending life. They almost always want more money.
The interesting thing is that if the first fight is anything to go by, Joshua could lose the rematch. His victory in April was not convincing enough to guarantee or even strongly suggest that he can repeat the victory. Joshua's confidence is admirable, and he must realise the risk he is taking. The two belt champion believes he can improve on his performance in April that saw him floored and almost stopped by the former reigning King.
A rematch will attract plenty of interest and money too, but also comes with huge risks for Joshua. Fury will ridicule him all day if Klitschko wins, pushing Josha out of the picture and paving the way for a Fury Klitschko rematch if the sidelined former gypsy king returns in 2018.
Share On

Categories

Date