By Gabriel Princewill-
Tyson Fury and Deontey Wilder have both weighed in heavier than their last appearance, as the pair prepare to settle their rivalry in a mouth watering trilogy that has unexpectedly displaced that which was anticipated between Fury and his British compatriot, Anthony Joshua.
Joshua blew his opportunity to face Fury for record breaking sums of over £50m when he put on a lackadaisical performance against  the  talented Olegsandr Usyk a fortnight ago in getting comprehensively outboxed for 12 rounds.
The londoner now faces  a wait of a few months to attempt to regain his belt for the second time in just two years. He will have to relax indoors and observe how his fellow heavyweights perform under the lights, and hopefully use any impressive showing in Las Vegas to add motivation to his own desperate come back attempt next year before he can even contemplate facing the winne rof tomorrow's highly anticipated showdown.
Fury weighted in at 19 stonne 7 , whilst Wilder came in at 17 stone, preparing the stage for some heavy movement and heavy hitting to the pleasure of paying fans.
The pair will be the focus of global attention as the two heavyweights combatants look to stamp their authority on the sports premiere division .
Obliteration
Asked bout the extra weight, Fury said; "it means total obliteration of a dosser. Total annihilation. That is what it means to me. 277 pounds, I am going to put him in the royal infirmary after the fight.
Look at the state of him. There isn't a man born from his mother who can beat the Gypsy King, let alone this sausage here.
With him severely hurt on the floor, he was complaining last time about a cracked skull and an injured arm. His pretty little wife down there won't recognise him, I will send him home butchered"
Storm
Wilder said : "the weight came on, I wanted to look and feel sexy. There won't be no pushing me. Calmness is the key to the storm.
I know when I am not calm my mind is cloudy, when my mind is cloudy it allows you to make bad decisions. When you are calm you are able to make great decisions. I have rejuvenated myself, redemption is upon us and I can't wait to show the world what I am all about.
'I've been bench pressing a little over 350[lbs], so whatever his weight comes in, I can lay on my back and lift him.
"It won't be none of that rushing me and putting all his weight on me, and different things like that. But most of all, we just want to have fun."
The battle for bragging rights and the richest prize in sports has been played out countless times in Las Vegas- the Mecca of boxing- where old time greats like Mohammed Ali, George Foreman, Mike Tyson,  Lennox Lewis, and many others, made their mark, sometimes overcoming adversity en route to remekable and glorious conquests.
Fury and Wilder have faced each other before, the former dominated the first marginally in an eventual draw, but decisively in their second outing.
This fight has an interesting script to it because of Wilder's repeated claims he was cheated by Fury and his team, and the inevitable pressure those unsubstantiated claims which he seems to believe, puts on him to deliver a crushing finish to a fight whose build up has been laden with hostilities on both sides.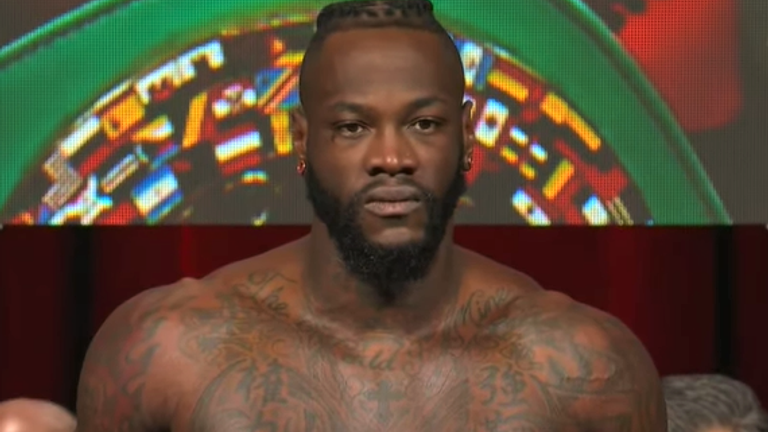 Wilder weighed a solid 17 stone says calmness is key to the storm
Fury will be determined to defend his title and unbeaten record, and Wilder from Alabama, will be desperately seeking to get his belts back.
Wilder by all accounts from his team has re-invented his style under the tutelage of  new trainer. Malik Scott, whilst retaining his heavy detonating right hand which can put any heavyweight's lights out at the twinkling of an eye.
Fury is an overwhelming favourite to win, but there can be no blinking of an eye for this one, as a heavy hitting power house like Deontey Wilder can never be ruled out.
Share On

Categories

Date