By Ashley Young And Victoria Mckeown-
Female Activist, Dr. Shola-Mos Shogbamimu has been accused of stoking racial tensions, after she posted a comment on her twitter account on Friday, saying the way to commit murder and get away with it, is to be white.
The lawyer and television commentator is allegedly encouraging a divide between blacks and whites in the Uk, through her comments, and must be stopped, according to critics keeping an eye on her.
Observing gurus paying attention to her following her involvment in the royal family feud between prince Harry, Meghan Markle, and the rest of the royal family.
The condemnation comes following her latest tweet about the U.S murder trial that saw 18  year old Kyle Rittenhouse acquitted of murder.
The feminist posted a comment on twitter saying : "How to get away with murder. Be white. In another post the same day, Dr. Mos-Shogbamimu posted:  what white people get away with is what black people are punished for". I'm so tired of this evil.
The controversial verdict sparked fresh waves of protests in the U.S, leading to a demonstration of about 200 people in Portland being declared a riot, after protestors started breaking windows and throwing objects at police.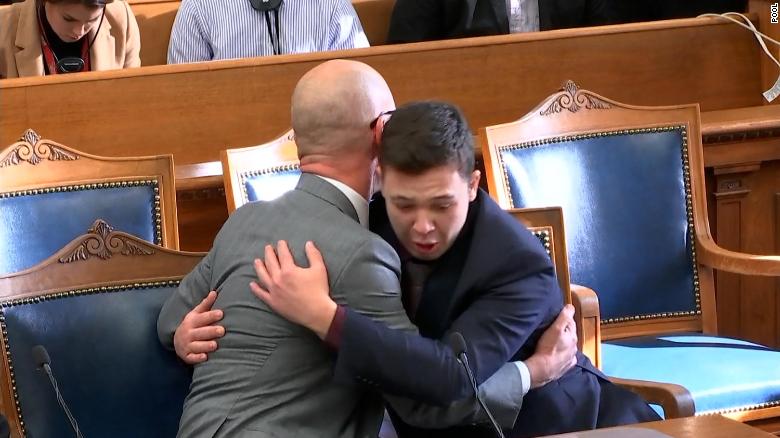 Freed: Rittlehouse celebrates  being freed          Image: Cnn.Com
Riot
A demonstration of about 200 people in Portland was declared a riot after protestors started breaking windows and throwing objects at police.
Rittenhouse was acquitted after witnesses testified that he was chased and threatened, with the first victim pointing a gun at him, prompting him to shoot two men, both of whom were white.
Ever since her unflinching support for Meghan Markle, some of  her critics say she is blindly bent on stirring the pot in matters relating to race issues.
Analysts say she is treading a dangerous line .
Analyst Nicole Perrin, told The Eye Of Media.Com: "I think it is important we note that Dr. Shola is playing a potentially stoking racial tension by being quick ti imply racism, even where there is no evidence to support this.
'It is quite clear from the evidence of the case that the defendant felt threatened by his  eventual victims, and both men were white. Is Dr. Shola ignorant enough not to be aware that there are white men who have been convicted of murder in America's long history?
'Where does being white come into the equation when both of the victims were white?
'This woman seems to be intent on causing a racial stir by calling racism without evidence, in much the same way she did when she heard an allegation that an unamed member of the royal family had asked how dark the colour of Meghan's child may be, completly ignoring the possibility the question could have been borne out of criticism.
'In that case, she can be forgiven for imagining the question may have been racist, but this recent acquital in America has no conenction with racism, except that the defendant took a stand against potential violence from the Black Lives Matters(BLM) protesters, whoa re known in the past to destroy things and shops when protesting".
Racial Tension
Ms Shogbamimu has been flagged up for particular attention by those who believe she should not be stoking the flames of racial tension by putting race at the centre of every major issue.
Some have expressed anger at the fact she appeared to be disdainful of the Queen when she asked what kind of grandmother would allow the press to victimise her grandson and his family.
How dare her say such a thing on national television Perrine said.
Analyst Deon vernhoven said: 'it is a fair question to ask if indeed she allowed the press just make her grandson's life a mess, without any intervention.
Writer and life coach , Sheila Mckenzie believes the matter becomes complex when we forget that the Queen is not expected to interefere in politics and a free press, except where absolutely necessary.
"But we can see from the latest BBC documentary suggesting royal aides taking stories to the pressed has forced an unprecedented response to prevent the palace's name from being dragged under the mud.
Especially if the claims are not untrue, and very damaging. If the multiple articles in the press about Meghan Markle were true, or mainly true, the Queen will have no business getting involved at all.
At best, it would be for other senior roles to intervene, if they were predominantly untrue. If a majority were true, the press have a right to report them, but it won't be good if the stories were regularly being tkane to the press by royal aides.
Ms Shogbamimu's comments  received mixed feelings with the public, many complaining to Ofcom in anger.
Another outspoken critic of Ms Mogmashimos is Sharon
Survey
A survey examing public views about the royal feud between the royal family and Prince Harry and Meghan Markle, and how  its association with Piers Morgan,  72% of 1,000 respondents from from ethnic minorities supported Dr.Shola for taking a stand against what they saw as racist treatment against Meghan Markle by the press and Piers Morgan.
There were 35% of ethnic minorities who felth she went to far in her attack of the Queen.
In other areas, like Maida Vaile, Basildon, Barking, 80% of 1,000 respondents felt Dr.Shola was too forceful and driven by a wrong agenda to find racism in situations and fight them.
Ofcom did not address complaints against the activist, but focused their evaluation on the broadcaster, and alluding to the predominant complaints directed against Piers Morgan in the context of the broadcaster's adherence to codes of conduct.
Divisive
Shogbamimu's latest post has been condemned as "provocative and divisive'. She is believed to have published the post simply because a white teen was acquitted of killing two BLM protesters, ignoring the fact the court assessed the details, and the required intention for unlawful killing was not proved in the trial.
More telling in the trial, was the testimony from Grosskreutz  for the prosecution, after he admitted  pointing a gun at Rittenhouse before the 17-year-old fired his rifle, hitting him in the arm.
Others testified that Rittenhouse was pursued by the men he shot dead and the teenager, who testified in his own defence, told the jury he was in fear of his life when he fired his gun. His defence appears to have been corroborated by witnesses present at the scene.
Rittenhouse killed Joseph Rosenbaum, 36, and Anthony Huber, 26, and also wounded Gaige Grosskreutz, 27, when he shot them with an assault rifle as he roamed the streets of Kenosha with other armed men acting as a self-described militia, during protests in August 2020, after a white police officer shot a Black man, Jacob Blake, in the back.
The defendant claimed to be acting as  a vigilante-style informal security personnel, armed with assault rifles, and Black members of the public or those protesting in support of the Black Lives Matter movement.
The jury in Kenosha returned to the courtroom early on Friday afternoon on the fourth day of its deliberations, after indicating that they had reached a unanimous verdict.
Verdicts of not guilty were read for each charge Rittenhouse faced, including for crimes normally classed as murder in most courts but in Wisconsin were charged as intentional homicide, reckless homicide and attempted intentional homicide.
Patrol
The court heard that he was 17 when he came to Kenosha from his home in Illinois in August 2020, and began patrolling the streets, staying out after curfew, with the apparent approval of some of the police officers on duty at the time, who handed out water to the groups of armed civilian men milling about.
The armed civilian men claimed to be protecting property and acting as informal medics, and unofficial security after some businesses had been destroyed when demonstrations against the police shooting spilled over on the fringes into violence after dark.
Rittenhouse had pleaded not guilty to the homicide and attempted homicide charges and also to two charges of recklessly endangering safety, for firing his weapon near others.
He was also charged with the illegal possession of a dangerous weapon by a minor, but the judge dropped that count against him during the trial.
The circumstances seemed to suggest that the young teenager, who appears to be anti BLM, was made to feel threatened enough to defend himself by shooting those chasing him.
Dr. Shola's post is seen to have no basis of racial injustice, highlighting what some fear is a tendency to cause racial division in the Uk.
Dr Shola recently published an article in The Independent, suggesting that the latest revelation that Meghan Markle misled the courts in her victorious case against ANL publishers has no bearing on the appeal to overturn the verdict.
War
Some observers keeping an eye on the activist say her continuous involvement in the dispute between Meghan Markle and the press, suggest she is waging a war against the press along racial lines and bent on defending Meghan Markle no matter the actions of the Duchess Of Sussex.
There was anger against the 18 year old for appearing to be confrontational against the BLM protesters, because of the prevailing view that taking such a stand against a movement associated with race, makes it racist.
However, some are simply mad at the violence that erupts from some demonstrations that they go to extreme lengths to protect property and confront the protesters. In some cases, they are indeed racist too, but the actual murder case was specifically about the incident leading to th killing, not race.
In Newyork, demonstrators were seen taking to the streets in New York. Video circulating on social media showed large crowds peacefully gathered in Brooklyn and on the Manhattan Bridge to protest the acquittal.
Rittlehouse was determined to involve himself in the unfolding drama of protests by committing to preventing BLM protesters from looting shops, as has been done in the past. His actions along these lines has a tendency for him to appear racist, when his main concern is to prevent damage.
Rittennhouse might have been racist, but it doesn't prevent him from choosing to safeguard shops and buildings he feels could be destroyed in the event of a valuable protest.
Lawyers agree that the fact he was subjected to a chase and had one of the victims point a gun at him, entitled him to act on impulse and shoot, risking a court case and conviction.
Share On

Categories

Date