By Lucy Caulkett-
The father, stepmother, and uncle of 10-year-old Sara Sharif have been charged with her murder after police discovered her lifeless body at their home in Surrey back in August.
Urfan Sharif, 41, along with his partner Beinash Batool, 29, and brother Faisal Malik, 28 were each charged with murder as well as causing or allowing the death of a child, the Crown Prosecution Service announced yesterday.
All three accused will appear before magistrates in Guilford today after spending a month in Pakistan before deciding to return to the UK.
Sara's mother, Olga Sharif, has been informed of this latest development and is being supported by specialist officers.
A statement from St Mary's Church Of England school's headteacher, Jacquie Chambers, said the Year 5 pupil had 'the most beautiful smile'.
In a statement, she said: '[Sara] was a bubbly, confident little girl who had the most beautiful smile. She was full of ideas and was very passionate about the things she believed in.'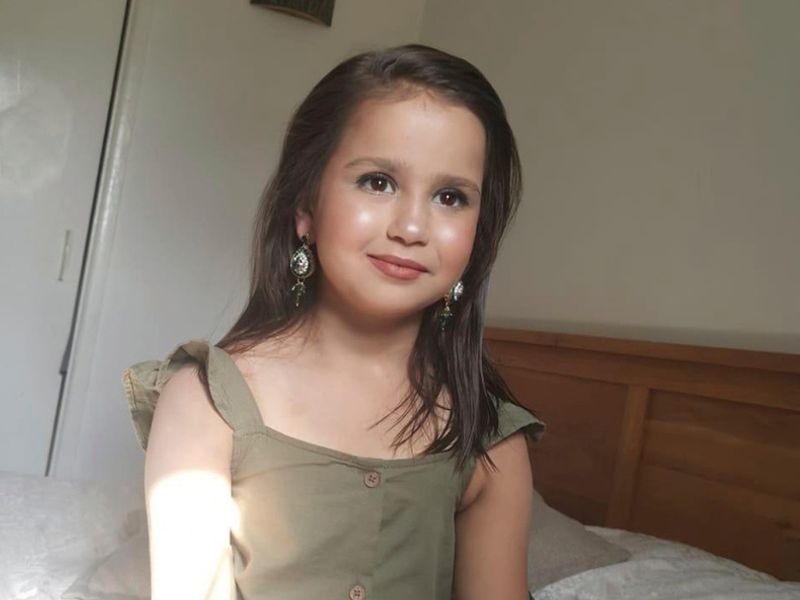 Tragic: Sara Shariff was found dead in family home
The shocking revelations surrounding this case have sent shockwaves through the community on two continents, as well as law enforcement agencies.
Shortly after arriving in Pakistan, Urfan Sharif contacted emergency services in the UK to report that Sara was found dead at their residence in Horsell, near Woking.
The discovery of Sara's lifeless body initiated an international police search, as a postmortem examination revealed that she had endured "multiple and extensive injuries" over a "sustained and extended" period.
In addition to the murder charges, the three have also been charged with causing or allowing the death of a child. They are currently in custody and are scheduled to appear at Guildford Magistrates' Court on Friday.
The trio's departure to Pakistan occurred one day before the grim discovery of Sara's body on August 10th, casting an immediate cloud of suspicion over their actions.
However, it was not until recently that they were apprehended.
On Wednesday evening, upon disembarking from a flight from Dubai, Urfan Sharif, Beinash Batool, and Faisal Malik were arrested at Gatwick airport.
This arrest followed negotiations with the police and British authorities. They had left Sialkot airport in Pakistan earlier that same day, culminating in their apprehension.
Authorities have reported that Sara's mother has been informed of these recent developments and is receiving support from specialist officers during this harrowing time.
The disappearance of the three suspects following their arrival in Pakistan had raised concerns about the whereabouts and safety of Urfan Sharif's five other children, ranging in age from one to 13.
The children had been staying with their grandfather, Muhammad Sharif, at his residence in Jhelum. Following a police raid, these children have now been taken into care in Pakistan.
The Guardian reported on Sunday that Muhammad Sharif had been engaged in negotiations with local politicians and law enforcement to persuade the fugitives to surrender and be handed over to British authorities.
The suspects had expressed fears of mistreatment if they were dealt with by Pakistani police, shedding light on the complexities of this international investigation.
In the UK, the National Child Safeguarding Panel is also investigating the case.
Surrey Police, who are leading the investigation alongside the National Crime Agency and their counterparts in Pakistan, are also facing questions from a police watchdog over their knowledge of the family history.
The force previously said Sara's family was known to police but only on a "historic and limited basis".
However, the Independent Office for Police Conduct is demanding further information from the force about their contact.
Share On

Categories

Date