By Gabriel Princewill-
Former Mp Anne Widdecombe said late Mp David Amees was much loved and his family was shattered at news of his death.
Sir David Amees was brutally killed by a man suspected of terrorist involvement as the  likeable Mp concluded a surgery in Leigh On Sea, Essex.
Widdecombe told The Eye Of Media.Com ahead of the procession for the Mps funeral on Monday that  Sir David Amees was a lovely man with whom she worked for 34 years, adding that "he was just as lovely as he has been spoken about, a man always with an infectious smile who always wanted the best for Southend".
The retired Mp who spent Monday night with Amees's family said the family was shattered at news of Sir David Amees's death, adding they had stayed up late into the early hours of the morning commemorating his life, adding that he was much loved and will be greatly missed.
"He was such a lovely man withhigh hopes for his constituents in Southend, he was always thinking of ways to improve the standard of the people . His ambitions for his town was always great, and people loved him because it was obvious he cared for people and his town.
He always wanted Soutned to become a city, it's just a shame he didn't live to see it happen in his lifetime, but I think he will be remembered as a very loving and supporting Mp, friend, and family man.
Discussing the horrifying murder, she said; 'nobody has a clue why anybody would want to kill a man like him. The police may know, but with the murder case pending, we will have to wait to lear more.
On knife crime, the former Mp said: "I think the police need more stop and search powers, but political correctness in parliament will be the major obstacle to restoring powers that allow police to randomly stop and search people.
"I think it is important that  public  confidence is restored, and people who carry knives are not made comfortable to continue to do so. I want to see those caught with a knife do several years behind bars.
'David was a man I knew for many years, he had a heart for the people of Southend, and only wanted what was good for his town'.
At the church, the former Conservative MP also read a statement on behalf of the Amess family, who asked people to "set aside their differences and show kindness and love to all".
Sir David Amees's friend and colleague, Mark Francois delivered a eulogy at Monday's private ecumenical service at St Mary's Church in Prittlewell,
They said though their "hearts are shattered" they are "enormously proud" of Sir David and urged the community and beyond to support the many charities he worked with, in lieu of flowers.
Mourners today said their final farewell to "brilliant" Sir David Amess as his life was celebrated during a funeral service in Southend on Monday.
Locals lined the streets to pay their respects to the Tory MP who was stabbed to death on October 15 while holding a constituency surgery in Leigh-on-Sea.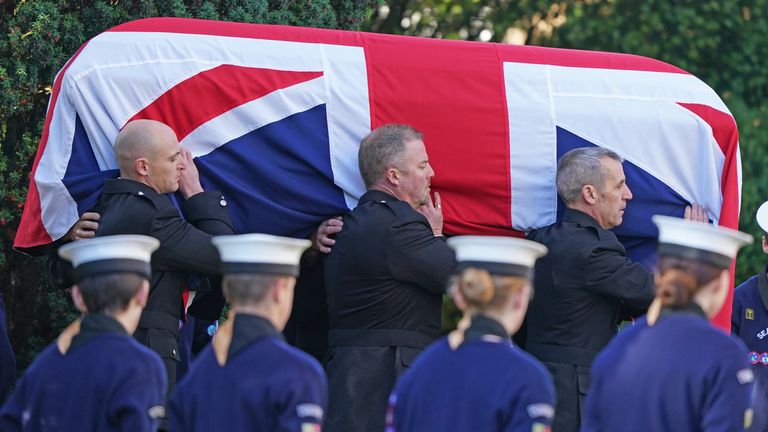 Firefighter from Southend's Fure Service helped carry Sir David Amees's coffin.
The family of the late father-of-five called on Britons to "show kindness and love to all" as the memorial service began. Locals had lined the street of the newly-crowned city and applauded as a hearse carrying Sir David was driven to St Mary's Church.
The funeral service, led by Reverend Paul Mackay and Rev Monsignor Kevin William Hale.
The coffin  was cafrried to a horse-drawn hearse for a procession around Southend immediately after the privately attended church service.
Well wishers gathered in their hundreds outside Southend's Civic Centre to pay their respects as the hearse, led by four black horses, paused in front of it. Uniformed police officers bowed their heads as the hearse arrived and people applauded.
In an emotional statement, Sir David's family said their "hearts are shattered" and asked people to "set aside their differences and show kindness and love to all".
"This is the only way forward. Set aside hatred and work towards togetherness," said the family statement, read by the former MP Ann Widdecombe.
"Nobody should die in that way. Nobody. Please let some good come from this tragedy. We are absolutely broken, but we will survive and carry on for the sake of a wonderful and inspiring man."
On Tuesday, a Requiem Mass will be held at Westminster Cathedral in London.
Share On

Categories

Date