By Gabriel princewill-
Anthony Joshua's U.S debut against Andy Ruiz Jnr(33-1) could turn out to be the stiffest test of the Londoner's decorated career so far. It could also be the most exciting so far.
Fireworks should be expected when the pair lock horns  on Saturday night  at the famous Madison Square Garden in the great New york City because Andy Ruiz Jnr  fights with fire in his belly, going for the kill with every ounze of his Mexican blood. Ruiz, of Mexican heritage is a solid fighter, whose 21 knockouts from 34 fights fails to accurately reflect the threat he poses as a challenger for the world heavyweight title.  He has an arguably higher level of punch variety than the unbeaten champion who has scored 21 knockouts from his 22 wins.
Ruiz will be giving away four inches in height, and  lacks the aesthetic look any avid boxing fan would like to see on the opposite end of a ring being shared by a world champion of Joshua's stature. He is no body beautiful,  and very uninspiring to behold.  Yet, at 6ft 2 inches, the hungry Mexican is a come forward resilient fighter with plenty of action and wells of determination. He fights with an unabated Fury that commands attention and a commensurable response to quell the pressure he invokes when ardently searching for victory.
When contrasted with his physical appearance, Ruiz's fighting spirit and ability confounds expectations.A n incessant attacker,  Ruiz is capable of derailing Joshua's smooth journey to potential greatness if the amiable Londoner exhibits any lapses of concentration on Saturday night. Joshua will be sharp, focused, and very decisive if he is to masterfully handle a stubborn fighter of Ruiz's disposition in front of what could be an overwhelming partisan Mexican crowd of supporters.
A scenario ending in tears for Joshua is highly improbable as far as boxing experts are concerned, but this is the one fight where pitiful upset could happen if Ruiz is hot on the ball, and Joshua shows any trace of slack.  An unedifying eventuality costing Joshua his first loss is not as far fetched as it appears, but it must not happen. A defeat for Joshua in the hands of this lion heart of opponent will be a nightmare for the boxing world, but a treasure for Mexican fans and Ruiz in particular.
Coming in as a late replacement for the loud mouthed Jarrell Miller who lost his opportunity to face Joshua after failing 3 drugs test, Ruiz is undoubtedly a worthy contender for the world heavyweight championship title. He lost a contentious decision to former WBO champion Joseph Parker, in a thrilling 12 round fight in 2018.  The tough Mexican has never tasted the canvas throughout the entirety of his boxing career, both amateur and professional, but has never faced an Anthony Joshua.
With a relatively solid boxing background, it a fair conclusion that this tough, battle ridden combatant is no push over by any stretch of the imagination.
ACCOMPLISHED
Ruiz was a well accomplished amateur with 110 fights, out of which he lost only 5.  He represented Mexico in two 2008 Beijing Olympic Games qualification tournaments, losing to eventual Olympians Robert Alfonso of Cuba and Oscar Rivas of Colombia in the first and second qualifiers. Undefeated Oscar Rivas separately faces Britain's Dillian Whyte in August in an intriguing match up.
Unquestionably tenacious with a notable level of durability, Joshua will deserve much plaudits should he blow the Mexican out in the impressive fashion his fans expect him to do before a packed audience of boxing fans tomorrow night. Unfortunately, the rightfully  deserved credit may elude the brilliantly built marketable heavyweight champion if he dispatches of Ruiz quickly. Yet,  a well rounded assessment of this fight in advance will account for the tough challenge Ruiz poses against Joshua.   Joshua will deserve to be amply credited if he becomes the first man to stop Ruiz in his track.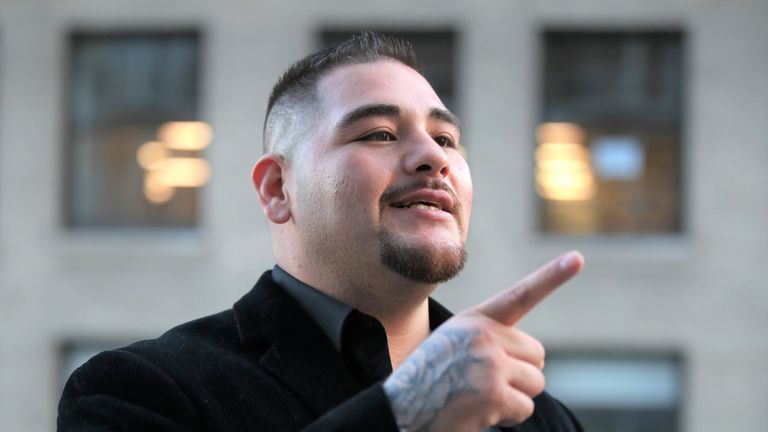 Tough Mexican: Andy Ruiz Jnr
IMPOSING
At 6ft 6 inches and an estimated 16 stonne, the darling of British heavyweight boxing is an imposing figure in the ring with an arsenal of good skill and considerable power. But some of his vulnerabilities are begging to be exploited by the right man if not ironed out soon.  His jab, for instance,  still lacks the authority inherently possessed by both Lennox Lewis and Frank Bruno in their day. His style is also conspicuously characterised by an absence of lateral or head movement, rendering him an easier hitting target than otherwise would be the case.
Predictably one dimensional so far, it is imperative that Joshua begins to assert his jab fully with greater conviction, and throw his combinations with more spite and venom. Ruiz Jnr's determination and ambition to pull off a remarkable upset to crash Joshua's party cannot be underestimated in a fight that promises to be explosive from the outset. If Ruiz as as sturdy as some of his fights suggest, this fight could well go the distance in an action packed battle of attrition.
On the balance of probability, Joshua will emerge victorious after a drama filled occasion around the 5th or 6th round
Share On

Categories

Date