By Gabriel Princewill-
An online gambling operator  has been fined  a financial penalty of £630,000 after an investigation by the Gambling Commission revealed a series of anti-money laundering and social responsibility failings.
Smarkets (Malta) Limited has been charged  the six-figure sum for its abysmal failings which  led to customers being allowed to gamble without adequate source of funds, checks being carried out, and failing to identify and interact with customers at risk of experiencing harm.
The operator has also received a formal warning and will undergo an audit to ensure it is effectively implementing its anti-money laundering and social responsibility policies, procedures and controls.
Examples of the failings by Smarkets include one customer being allowed to deposit £395,000 in a four-month period, without the appropriate source of funds checks being carried out by Smarkets.
The Gambling Commission gave another example is of an individual transferring significant levels of funds between bank accounts without scrutiny or source of funds checks occurring.
Every gambling operator has a statutory duty to effectively regulate the gambling patterns of their customers, and ensure appropriate scrutiny of gamblers, especially those wo spend an extravagant amount of funds on gambling.
Numerous gamblers over the years have committed suicide due to the shame and trauma from losing a  lot more money than they anticipated.
Gambing addict Joshua Jones, jumped to his death at the age of 23  in 2015 after gambling away most of his months wages in the hope of making more money.
His father said he would like to see new laws similar to health and safety legislation to ensure every death involving gambling was investigated: "It's scandalous these deaths are not being properly investigated. The Gambling Commission, the betting firms and the government all hold up their hands and say, 'We did nothing wrong'. Every death should be investigated, and lessons learned to promote better public health policy.
A public health study started in 2015 and updated in 2021 revealed that  over 400 people with gambling habits commit suicide in the Uk every year.
Luke Ashton, 40, also took his life in 2021 after being unable to face the shame of gambling his money away.
Mr Ashton from Leicester  was driven to suicide by a gambling addiction and debt he accrued after being enticed by free online betting offers while furloughed during lockdown.
The father-of-two travelled more than 100 miles from the family home to take his own life last year. He was identified by his fingerprints. His 40 year old wife blamed the tragic suicide squarely at the feet of online betting firms whose apps lure punters in by offering free bets.
Records show Betfair's app handed him cash bonuses to encourage him to bet more, including seven in the six weeks before he died. The final offer, a £5 bonus, was deposited in his account the evening before he went missing.
Mr Ashton set up his Betfair account several years before his death and had opted out of receiving direct marketing by email or text. The offers he received were available to all customers, the company said.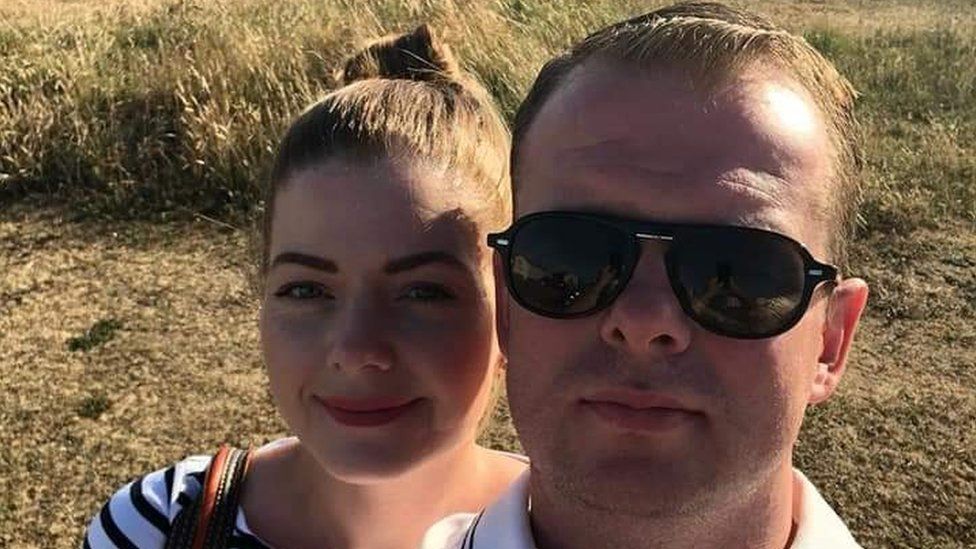 Mr Aston killed himself after losing too much money though gambling                            Image: Annie Ashton
Annie Ashton has received more than 19,000 signatures on a petition she set up calling for gambling incentives to be banned . It was the second time Mr Ashton had suffered gambling-related harm.
In 2019, following months of heavy betting, the couple worked together to enable him to stop and repair their household finances.
During the pandemic MPs and campaigners repeatedly warned that tens of thousands of people were being driven to addiction by bookmakers' predatory tactics.
Mrs Ashton has called on the Government to ban free bets and advertising during live sport
The fine against Smarketa is a punitive measure designed to serve as a deterrence to potential offending gambling operators.
Sarah Gardner, Commission Deputy CEO, said: "This case was identified through compliance checks and once again highlights how we will take action against gambling operators who fail their customers.
"Our investigation into Smarkets unearthed a variety of failures where customers were put at risk of gambling harm.
"It was obvious that poor systems and processes were in place which contributed to these breaches, driven by the company's failure to effectively implement its policies and controls."
The £630,000 Smarkets fine is the latest in a string of enforcement cases led by the Commission this year. Earlier this month online operator LeoVegas was fined £1.32million for social responsibility and anti-money laundering failings".
Smarkets founder and CEO, Jason Frost(pictured) was contacted for comment.
Share On

Categories

Date