By Lucy Caulkett-
A photographer has travelled across South East London, taking  inspiring photos of fathers with their children.
Highly passionate Harris-Taylor travelled  across southeast London, taking beautiful, naturally lit portraits of dads and their young kids.
Drawn from  a mixture of friends and strangers, her collection of photos are both touching and interesting. The enthusiastic photographer is keen to show that men too can have the warm natural affection for their children that women are known to have.
She also feels it is important for society to both promote and encourage men to step up to the important responsibility of fatherhood with affection and enthusiasm, as she happily portrays warm images of men already doing so.
"I think we're so used to seeing motherhood in this way, and images of mothers and babies seem to hold so much value, she said of the pictures.
"The love and bond fathers can have with their babies and children is no different yet we rarely see this kind of intimacy, which then perhaps makes it seem more remarkable than it should."
Ms Taylor strongly values the importance of fathers being present in their children's lives from childhood to adulthood, and believes society needs to relish the value of fathers more than they presently do.
Shared with The Eye Of Media.Com, her appreciation for both fatherhood and motherhood is one she more men in particular should be inspired to appreciate.
She went as far as interviewing many of the men with their children captured in her photographs. The photographs are not only a credit to her worthwhile initiative, they also are a source of pride for the fathers featured in her beautiful collection.
Caring father carries crying baby     Image: Harris Taylor
"Each father shared their own unique story with me and I learned so much about their their roles individually," Harris-Taylor says with passion and enthusiasm.
Ms Harris Taylor featured the views of a father who said fathers did not enjoy the benefits of having a father present in their lives need to break the generational curse and be greater by developing a much needed bond with their own children.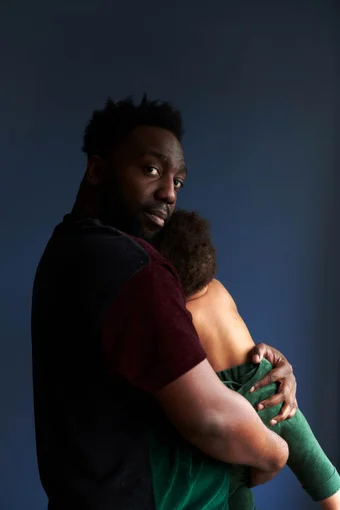 Nathaniel hold his son  Image: Sophie Harris
Disappearing Fathers
All over the world, fathers disappear on their children every year, leaving millions of children feeling abandoned and rejected.  In many cases they develop low self esteem as they grow into their teenage years.
Each case is different and some mothers manage to do such a fantastic job on their children that it is not noticeable they came from single parent homes.
There can be no perfect substitute for absent fathers, which is why the pictures by Ms Harris Taylor are so touching.
Absent fathers can have a devastating impact on a child's future, which is one of the reasons this publication  has for the past few years confronted absent fathers whenever brought to our attention by troubled single mothers or their children.
The good rate of success  we have witnessed in influencing fathers to at least contribute financially to their children's lives where they had previously not been doing so is an encouraging sign that where enough pressure is applied to worthwhile course, there will often be some progress.
Ignoring the feelings of helpless children because of our own selfish agendas should be an unforgivable offence no father should be allowed to escape with a free conscience.
The though of a woman loving  and caring for her new born baby while the father goes about his life with no concern for the new life he has created is a s disgraceful and low as a man can go.
Ms Harris Taylor should keep up her good work and remind the world that there are really loving fathers around, who care very much for their children.
Share On

Categories

Date