By Gabriel Princewill-
Broadcasting regulator, Ofcom, have been accused by critics of deliberately wording its report into complaints against Piers Morgan in a way that was misinterpreted by the public and the media.
As internal members of this publication in addition to members of our thinktank comprising professionals from other fields learnt of the news that Ofcom has said its report responding to complaints about Piers Morgan did not clear the presenter as widely reported, cynical speculations began to emerge.
The regulator has been accused of knowingly couching the words of its report in a manner that misrepresented its true intentions- an allegation Ofcom has vehemently denied.
A spokesperson for mental health organisation, Mind, said of our finding "that's interesting, we will take note of it", whilst declining to offer any further comment about it.
Ofcom's senior press officer, Harry Rippon, calmly and intelligently explained various aspects of its copious report into complaints against Piers Morgan by the  members of the public, following the presenter's reaction to a controversial interview of the Duch and Duchess Of Sussex by Oprah Winfrey.
Rippon explained the multiple and diverse complaints made by the public, pointing out the restricted framework of Ofcom's remit which focuses on the broadcaster's complaince with the regulator's code.
All indications from the discussion  woith the broadcastoing regulator was that all other considerations  are peripheral to Ofcom's central objective of examining the safeguards in place by the broadcaster for protecting the public.
Whilst Rippon could not escape the fact that Piers Morgan was spared in terms of a much needed equivocal criticism of  key  aspects of his conduct the day after the televisied interview by Prince Harry and Meghan Markle, set boundaries to Ofcom's professionable duty is unarguable.
At best, recommendations can be made for their appraisals to encompass a wider spectrum of considerations beyond that of the broadcaster. This could be a question for the government to consider.
Rippon presented a relatively tenable explanation that Ofcom's remit is the broadcaster, not indivividuals, emphasising that any refrence to individuals in its report was in the context of the broadcaster's provision of balance to safeguard the interest of the public by providing adequate balance.
Complaints
Ofcom- the  Uk'sregulator for broadcasting-  received over 50,000 complaints in March against former television presenter, Piers Morgan, following that  controversial interview in which the Duke and Duchess Of Sussex made serious allegations against the Monarchy.
The Duke and Duchess Of Sussex, during the interview, made multiple allegations against the royal family, and criticised 'the firm' for actively perpetuating falsehoods about them in the tabloid.
The bombshells dropped by Prince Harry and Meghan Markle were  shocking, , piercing, and ignited furious reactions, led by step forward veteran journalist Piers Morgan, who audaciously dismissed them all, stating he did not 'believe a word that comes out of her mouth'.
Complaints to the  broadcasting regulator were also made against other guests on the show, including Dr. Shola Mos Shagbamimu, Trisha Goddard, and a few others, but the complaints against Morgan were the most serious.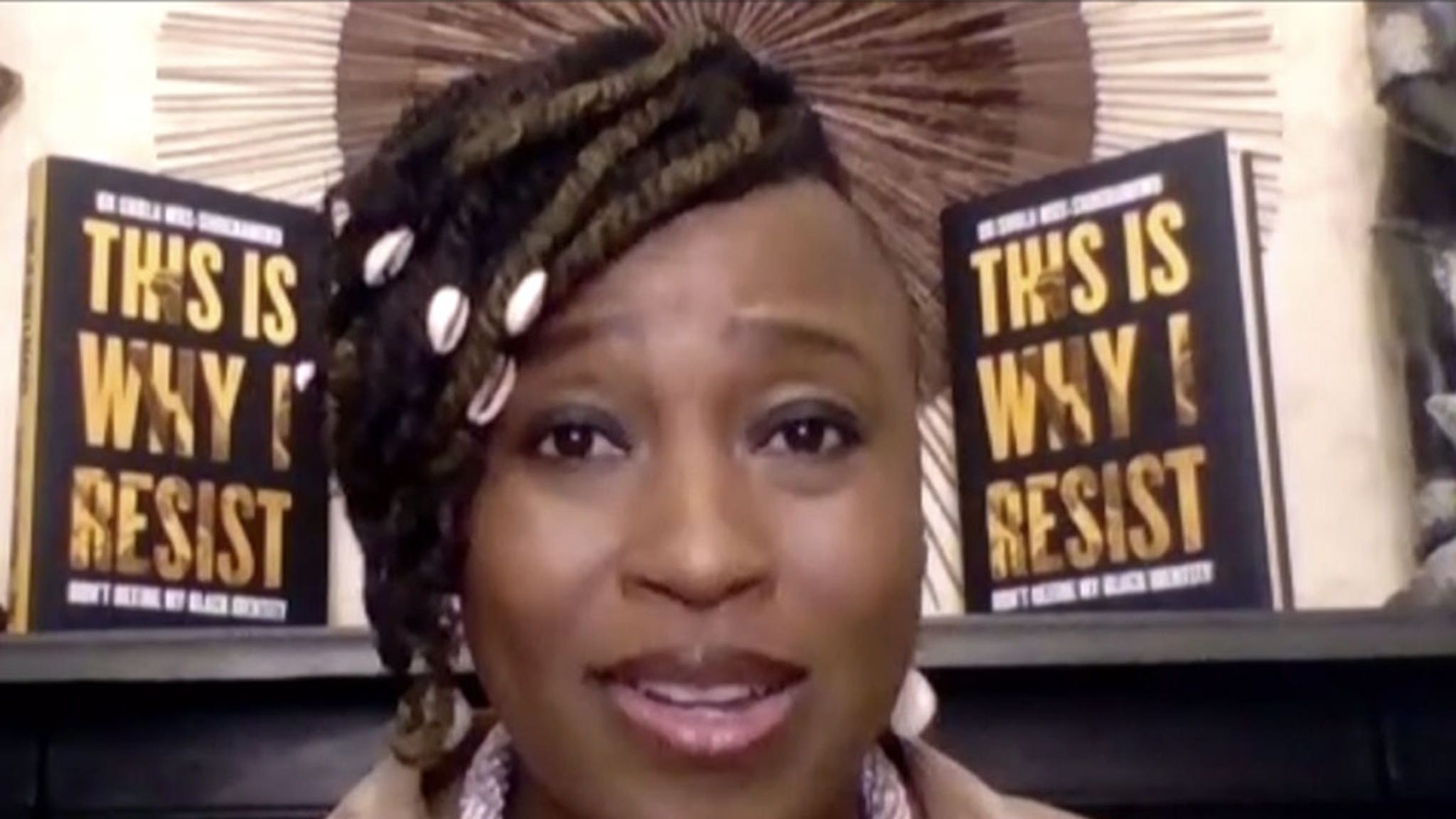 Dr Shola-Mos Shagbamimu was accused of being offensive           Image:TMZ
In the interim period between the complaints and Ofcom's report, many of the allegations and comments made by Meghan Markle were rogorously examined by the media, some shown to be lacking in their exactness, others judged based on their plausibility or otherwise.
The acrimony generated from the claims in the interview was palpable, and the pot continued to brew, as all sides to the equation awaited Ofcom's formal evaluation of the multiple complaints.
Ofcom released its 97 page report early in September, but admitted to The Eye Of Media.Com, following a scrutiny of its well written and detailed comprehensive report, that it did not clear Piers Morgan, contrary to circulated reports in the British media that its report had exonerated the well known media personality.
The outspoken journalist had been gloating in the perceived outcome of the misinterpreted report, going as far as insulting several people including Oprah Winfrey, and Head Of ITV, Carolyn McCall- the latter for not retaining him on the programme.
ITV's CEO Carolime Mcall was slammed by Pier following Ofcom's report
Ofcom's report stated  on page 3 that "a significant number of the complaints that Ofcom received expressed concern about Mr Morgan's comments regarding the Duchess of Sussex's revelations about her mental health and feelings of suicide.
"These included complainants who considered Mr Morgan was denying and dismissing the Duchess of Sussex's account of her suicidal thoughts and, in so doing, could potentially dissuade viewers experiencing suicidal thoughts of their own from seeking help, for fear of not being believed
or taken seriously".
Yet, the fact its conclusion ommitted the aforementioned "significant complaints" in connection with Piers Morgan's comments on suicide and mental health, but focused on the 54 year old accomplished public figure's right to vigorously challenge the Duke and Duchess's allegations as a whole, has been deemed to have been a cunning and dubious attempt by the regulator to knowingly misrepresent its report.
The summation of Ofcom's report on page 20 stated: "The Interview between the Duke and Duchess of Sussex and Oprah Winfrey contained serious  allegations and it was legitimate for this Programme to discuss and scrutinise those claims, including their veracity.
'Ofcom is clear that, consistent with freedom of expression, Mr Morgan was entitled to say he disbelieved the Duke and Duchess of Sussex's allegations, and to hold and express strong views that rigorously challenged their account.
'The Code allows for individuals to express strongly held and robustly argued views, including those that are potentially harmful or highly offensive, and for broadcasters to include these in their programming.
'The restriction of such views would, in our view, be an unwarranted and chilling restriction on freedom of expression, both of the broadcaster and the audience.
However, in instances where such viewpoints carry a potential for harm or offence, it is the responsibility of the Licensee to ensure that adequate protection from harm and sufficient context is provided".
Misconstrued
The penultimate sentence was the misconstrued element that constituted the unwitting misrepresentation of the truth by the mainstream media, though the 'such views'  in its concluding comments was referring to robustly argued views in the context of allegations, the entirety of which was independent of the significant complaints about Piers Morgan's dismissal of Meghan Markle's claims of suicide.
This was clearly missed by the press and even Meghan Markle's representatives, though has now been brought to the attention of most of the British media via social media, not that they will be expected to report on an unwitting oversight which could open up a can of worms.
"This looks like a deliberate play on words to give an impression of vindicating Piers Morgan, mental health analyst Deon Vernhoven told this publication. Most people would have read that as meaning Morgan was justified in saying all he said. Why did the regulator leave out complaints about her feelings of suicide, and focus on the rest of the allegations?"
Sheila McCkenzie- a life coach and writer offered a  slightly different view: "if Ofcom chose to address the allegations as a whole, it suggests they may have had good reason to conclude that Piers Morgan was entitled to express doubt in everything, provided the broadcaster ensured he was properly challenged.
"Genuine observers could tell Piers was bitter he was ghosted by Meghan Markle, but it could have led him adopt extreme negative views about her.
The regulator was clearly focusing on the broadcaster in its report, but it could easily have been concluded that they were acquitting Piers Morgan totally. At least, we now have confirmation that they did not clear him", she said.
Reprimand
Critics of Ofcom's report say the regulator should have openly reprimanded Piers Morgan for his reckless undermining of the Duchess Of Sussex's claims to suicide,  but Ofcom said the focus of its report was the broadcaster[ITV], not Morgan.
Analyst Amie Smart- a behind the scenes critic and analyst- strongly disagreed with Ofcom's approach. "I think it was completly wrong for Ofcom to present its report in a way that could be misinterpreted, especially as aspects of its conclusion defended Piers Morgan, and no aspect was clearly condemned or rebuked his conduct.
They can say their focus was on the broadcaster, but once they mentione dhis name and defended his free speech, they should have immediately highlighted the limitations on free speech that comes with freedom of expression and criticised him. They failed to do this, and that was wrong."
Careful Assessment
A careful assessment of Ofcom's report suggests that whilst the regulator had serious concerns about Morgan's expressed scepticism about Meghan Markle's claims of feeling suicidal, they were relatively content that adequate challenge had been presented by guests on the show including  Susanna Reid and Alex Ship.
In that regard, the regulator may also have believed that Piers Morgan's expressed discreditation of Meghan Markle's claims of suicide were permissible under free speech in light of the weight of the challenge posed against those views.
If so, they were prudent not to explicitly state this, but focused their appraisal on the wider issues raised which also constituted an important aspects of the overall complaints.
Nonetheless, those claims of suicidal thoughts by Meghan Markle and the accompanying complaints against their  outright dismissal  by Piers Morgan were not embodied in Ofcom's conclusive comments, which adjudged it a chilling restriction on Piers Morgan's right to freedfom of expression, if his views were not aired.
Ofcom addressed the troublesome issue of suicide  in its report, but mainly from the perspective of the sensitivity of broadcasters.
Significant Harm
"Given his context and the significant harm associated with the treatment of suicidal thoughts, we would expect broadcasters to be alive to the sensitivities and potential for harm such conversations can give rise to, and to take appropriate measures, if necessary, to ensure the audience is adequately
protected", Ofcom's report said on page 13.
The regulator detailed the challenge from Susanna Reid to Morgan's outright dismissal of her claims.
However, Ms Reid provided challenge to Mr Morgan's position, stating "we have to take it all seriously" and "We have reported on these allegations. We take them very seriously and there is an investigation now launching into them".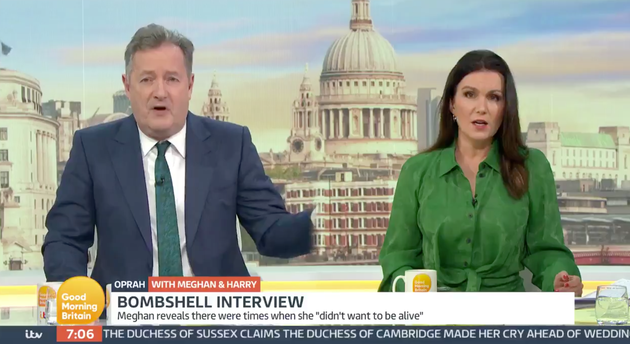 Ofcom's report points out that Susanna Reid challenged Morgan's dismissal of Markle's suicide claims       Image:ITV
Negative Views
Some critics made reference to Ofcom's acknowledgement on page 18 of their report that Piers Morgan holds cynical views against Meghan Markle.
Ofcom said: "We also acknowledged that, as suggested by the Licensee, many viewers were likely to be aware of Mr Morgan's "negative views about the Duchess of Sussex" and strong support for "the Royal Family in
their dealings with the Duke and Duchess".
Therefore, we considered viewers would have expected robust discussion of the allegations made in the Interview and a variety of strongly held opinions to be aired".
Analyst, Amie Smart further highlighted this statement as evidence Piers Morgan held biased views against Meghan Markle which  she says Ofcom should have contextualised.
"If Ofcom acknowledges that Piers Morgan holds negative views against Meghan Markle, does this not make it obvious he had ulterior motiver in discrediting all her claims? That makes him a dishonourable journalist who was rightfully sacked' from his job.
"Ofcom knew what they were doing wording their report the way they did. I don't think they wanted to upset Piers Morgan", Smart added.
Other professionals not quoted in the piece opined that the broader issues were so complex and emotive that Ofcom wouldn't to have been seen to support Meghan Markle by criticising Piers Morgan on the one issie of mental health and suicide, where they may have supported his rigorous scrutiny on the other sensitive issues.
Those other issues are to be subjected to expert assessment in future, but the predominant feeling was that consistent with Ofcom's comments on page 9 of its report that people who experience suicidal thoughts and express those feleings should be believed, the regulator should have openly cautioned or rebuked Piers Morgan for dismissing the Duchess Of Sussex's claims of suicidal feeling.
The  suggestion that Ofcom's report may have been deliberately misleading is worrying if it's true, but impossible to demonstrate.
The regulator chose its words carefully at every stage of its report, avoiding committing to whether Piers Morgan erred in dismissing Meghan's claims of suicide, deeming it to suffice that they expressed concerns about them.
The broad nature of the allegations made by Prince Harry and Meghan Markle also likely made it too simplistic in Ofcom's view to address the issue of suicide independently of the other more serious allegations, about which they would rather make no specific judgement, except to highlight the right for Piers Morgan to rigorously examine them.
Some analysts who assessed the report usefully opined that Ofcom being a branch of th government would have to be have been careful not to even be mistakenly perceived to be going against the royal family by specifically discrediting Piers Morgan's disregard of Meghan's suicide claim.
Towards the end of a  series of frutiful and productive conversations about the report, Rippon added: "what people should have done was carefully read the report before jumping to conclusions".
In relation to the allegations of deliberate misleading of the wording of its report,which came after my discussion with Rippon, another Ofcom spokesperson sent a shor statement, which read: "We believe our decision was very clear and detailed in its reasoning."
Following this finding, Ofcom's clarification of its report has been sent to Independent Press Regulator's Authority(Ipso) for their records, meaning that any publication that subsequently makes reference to Piers Morgan being cleared would be guilty of publishing an inaccuracy, which we will not hesitate to highlight if detected.
Although the topic has practically died in the national press, this publication will tackle some of the issues that caused s o much division in the days or weeks ahead, examining some of the complaints made to Ofcom.
Share On

Categories

Date