By Alexander Wilson-
A GOP congressman has attacked  Meghan Markle, the Duchess of Sussex's advocacy for paid family leave,  and  made a strong call for the Duchess Of Sussex and Prince Harry to be stripped of their royal titles for her "interference in U.S. politics."
Rep. Jason Smith (Mo.) slammed the  U.S born former "Suits" actor in a statement to the Mail , saying: her latest interference in U.S. politics reignites the question in my mind as to why the Royal Family does not simply strip her and Harry officially of their titles, particularly since she insists on sending this under the pretense of being the Duchess of Sussex."
Stripping the Duch and Duchess Of Sussex is an unlikely outcome to result from Meghan's open letter to  congress, though reprimand and warning could follow the strong reaction from Washington if the royal family consider their name tarnished as a result of the serious complaint of interferrence.
In an open letter to Speaker Nancy Pelosi (D-Calif.) and Senate Majority Leader Charles Schumer (D-N.Y.) posted earlier this week, Meghan made a push for paid leave, writing that she was speaking out as "an engaged citizen and a parent."
Recalling her childhood in California in which she said eating out at the "$4.99 salad bar at Sizzler" was a luxury that her parents "worked to afford," Meghan wrote, "No family should have to choose between earning a living and having the freedom to take care of their child (or a loved one, or themselves, as we would see with a comprehensive paid leave plan.)"
Smith lambasted Meghan for her restaurant reference and support of paid leave: "While her attempts at appealing to working class families by recalling her days of eating at Sizzler were laughable, her comments make crystal clear that the passage of this massive tax-and-spend bill is aimed more at helping global elites get huge tax breaks than helping the working families she claims to have dined with."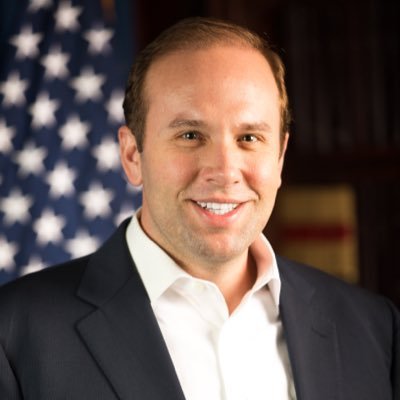 Rep Jason Smith                                                                             Image:twitter.com
It's not the first time that Smith has criticized Meghan and Harry. The lawmaker sent a letter to British Ambassador to the U.S. Karen Pierce last year accusing the pair of "using foreign titles to campaign against President Trump and interfere with our election."
On Thursday, Lisa Mclain, a Republican representative Michigan, believed that Meghan Markle's attempt was "incredibly out of touch with the American people," adding that she should "stick to acting instead of trying to play politics."
She said: "The last thing we need right now is wealthy celebrities pushing their liberal agendas on the American people."
Members of the British royal family are expected to maintain political neutrality, but many feel that the decision of Prince Harry and Meghan Markle to step away from their royal duties should apply to them not using it to fulfil their own agendas in a manner that contradicts royal principles, or without the blessing of senior royals.
Prince Harry and Meghan Markle have been dividive figures in the Uk, leading to all manne rof emdia attack from royal commentators in the press.
The couple stirred the pot when they gave an interview to Oprah Winfrey last March, in which they made several allegations, challenged by prominent journalist Piers Morgan, who sparked a furore when he dismissed all of Meghan's allegations because he mistrusted her motives.
Multiple complaints from the British public were made to the UK's broadcasting regulator, Ofcom, which produced a report widely considered to have cleared the presenter, but this week revealed by The Eye Of Media.Com not to have infact cleared Piers Morgan- almost 6 weeks after the a mistaken interpretation of the initial report was circualted in practically all the Uk media.
Piers Morgan's motives in undermining all the claims of the Duchess Of Sussex formed the basis of a wider scrutiny by this thorough publication, but Meghan's motives for interfering in politics, given a past ambition she has shown in one day becoming president of the United States is now bing looked at by some analysts, following the strong  reaction from a congressman today.
Her critics have long raised the fact Prince Harry and Meghan Markle use their royal titles to achieve their own purposes after stepping away from royal duties, the other side of the argument feaured by opposing views highlighting that inevitability, given the claim of the couple to have stepped back because they were subjected to pressure and lack of support during their most difficult times in the palace.
This particular occassion may be the beginning of a new row or the end to the Duke oe Duchess Of Sussex meddling in political matters.
Share On

Categories

Date