By Ashley Young-
A man  and his partner have been jailed for a combined period of 50 years  over the torture and murder of his  six year old son, Arthur Labinjo-Hughes.
Tustin was handed a life sentence to do a minimum of  21 years and his partner for a minimum of 29 years over the torture and killing of his six-year-old son, Arthur Labinjo-Hughes. Hughes, who was found guilty of two cruelty counts, but acquitted of one pertaining to Arthur's salt poisoning and another relating to withholding food and d
Horrified jurors heard  how callous Emma Tustin, 32, murdered the boy with a fatal head injury at her home in Solihull last year.
The evil woman also went as far as photographing him lying on the floor, sending the image to his father Thomas Hughes, 29.
Hughes was convicted of the boy's manslaughter.Sentencing, Justice Mark Wall QC said the case was "one of the most distressing and disturbing" he had ever dealt with.
He said neither defendant had shown any remorse and their behaviour had been "spiteful and sadistic".
One of the most troubling aspects of the case, he added, was that Tustin's own two children "lived a perfectly happy life in that house" just yards from where Arthur was subjected to unthinkable abuse.
The trial at Coventry Crown Court heard the terrible ordeal Arthur had been  subjected to.  He poisoned with salt, subjected to regular beatings, denied food and drink, and made to stand for hours alone in the hallway.
Jurors were told Tustin carried out a fatal assault by violently shaking the schoolboy and repeatedly banging his head on a hard surface, and while Hughes was not present then, he was culpable in the death as he "encouraged" violence against his son and dealt out beatings himself.
The judge told the pair "the cruel and inhuman treatment of Arthur was a deliberate decision by you to brush off his cries for help as naughtiness".
Tustin,  who was handed a life sentence for murder, was also sentenced to 10 years for four counts of child cruelty, including assaults, intimidation and the lacing of Arthur's meals with salt.
Hughes, who was found guilty of two cruelty counts, but acquitted of one pertaining to Arthur's salt poisoning and another relating to withholding food and drink, was sentenced to nine years over them. Both killers will serve these sentences concurrently.
Video was shown to the court of weakened Arthur struggling to pick up his pillow and blanket at his home
Tustin refused to enter the court room to hear the judge's sentencing remarks or victim impact statements from Arthur's family.
In a victim impact statement read to the court, Arthur's mother said his death had destroyed her life.
"Life as I know it will never exist again," Olivia Labinjo-Halcrow's statement said. "I feel hollow every day, I feel as though I'm walking around with all the lights turned off.
"He was the light of my life, the best parts of me. He was a precious, precious gift."
Ms Labinjo-Halcrow is in prison for killing her former partner in 2019. The statement was read by her mother, Arthur's maternal grandmother, Madeleine Halcrow, who broke down in tears as she spoke.
Sunlight
Arthur's paternal grandmother, Joanne Hughes, also read a statement in which she said the six-year-old was the "sunlight of all our lives".
"His death has turned the colour of our lives into a perpetual grey," she continued.
Ms Hughes said Tustin was remorseless and "the only pity she has shown is for herself".
She also said it was "clear that Arthur was failed by the very authorities that we, as a society, are led to believe are there to ensure the safety of everyone".
A serious case review is under way into circumstances around Arthur's death after it emerged social workers had visited the house in the months before he died and found no cause for concern.
Joanne Hughes said Arthur should by now have been a "happy, contented, thriving seven-year-old"
Prime Minister Boris Johnson said on Friday the details of the case were "deeply disturbing" and his thoughts were with those who loved Arthur.
Football fans have organised tributes for Arthur, including a banner at his beloved Birmingham City. There will also be applause to remember him at the Blues' away match with Millwall this weekend.
During the trial, jurors were told Hughes cut up two of his son's football shirts to punish him.
A spokesperson for the NSPCC said the charity was "struggling to come to terms with what Arthur Labinjo-Hughes endured" before his killing.
"This sentencing marks the end of the first stage in achieving some sort of justice for Arthur."
Suffering
Handing down life sentences to the cruel couple, Mr. Justice Wall said: A'rthur was subjected to the most unimaginable suffering at the hands of both of you. You both told lies to conceal what was happening in that house. Your behaviour towards him was often spiteful and at times sadistic," said Mr Justice Wall as he passed sentence at Coventry crown court on Friday.
"This is without doubt one of the most distressing and disturbing cases with which I have had to deal."
The pair were convicted on Thursday after an eight-week trial that revealed how Arthur had been physically assaulted, poisoned with salt and forced to stand in isolation for up to 14 hours a day in the weeks leading up to his death.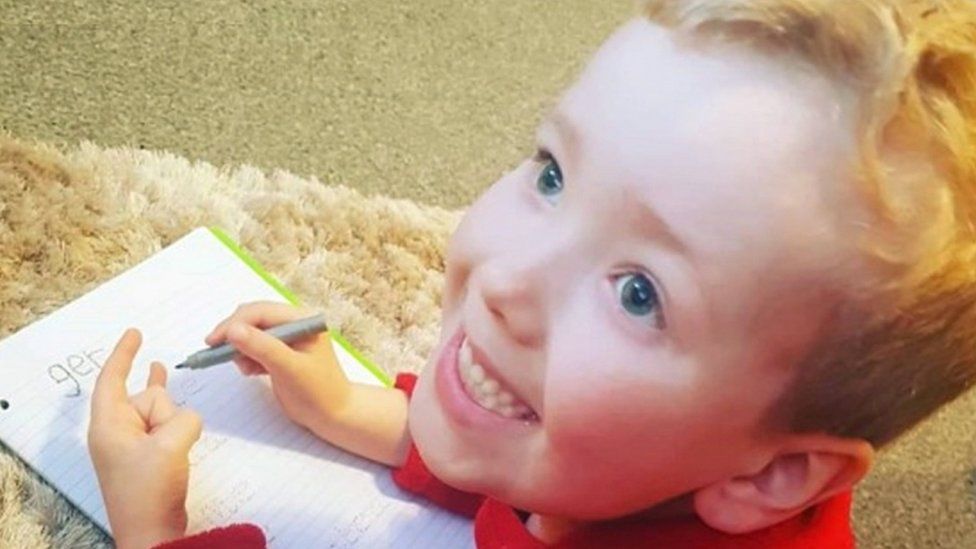 Tragic: Arthur Labinjo Hughes                                                                                            Image:Family Handout
Wall described Tustin, who refused to come to the dock for the sentencing, as a "manipulative woman who will tell any lie and shift the blame on to anyone to save her own skin". He said it was a "shocking feature of the case" that Tustin's two children, aged four and five, "lived a perfectly happy, normal life in that household while this appalling cruelty to Arthur was taking place".
He said Hughes had apparently cared properly for Arthur "before you became infatuated with Tustin to the extent that it obliterated all your love for your son".
Tustin killed Arthur on 16 June last year by violently shaking and hitting his head, causing injuries that were "extensive and devastating", Wall said. "The amount of violence you used on him produced forces on his body said to be equivalent to those which might otherwise have been produced by a high-speed road traffic collision."
Tustin also poisoned Arthur with salt over a number of weeks, giving him a significant amount in the hours before his death. When he was admitted to hospital, the levels of sodium in his blood were so high they could not accurately be measured by hospital equipment, and 130 bruises were found on his body, a number described as "staggering" by a medical expert.
Share On

Categories

Date