By Lucy Caulkett-
Irish star Evanna Lynch, who played Luna Lovegood in the Harry Potter films, secretly dated a co-star for nine-years.
After meeting on the set of the fifth film, Harry Potter and the Order of the Phoenix, Lynch hit it off with a fellow wizard  on set in The Order of the Phoenix .
The Phoenix was directed by David Yates and distributed by Warner Bros.
Although the couple's romance became more internse,  they successfully kept their relationship private for seven years, before going public with their love for one another with a series of loved-up snaps on Instagram.
Even then, not many people in the public were aware of the secret romance , or its intensity.
Last year, Robbie posted a picture of Evanna on a boat in a river, saying: "Happiest of birthdays to someone who is always delighted to see ducklings!"
She replied: "Thanks Bro!!! Haha no really thank you!"
So it looks like things are definitely still amicable between the pair.
At the movie premiere of Fantastic Beasts in New York , Evanna Lynch told US Weekly that they were 'still friends'.
Lynch performed with Daniel Radcliffe, Emma Watson and Rupert Grint, Lynch , and actor Robbie Jarvis on various occassions.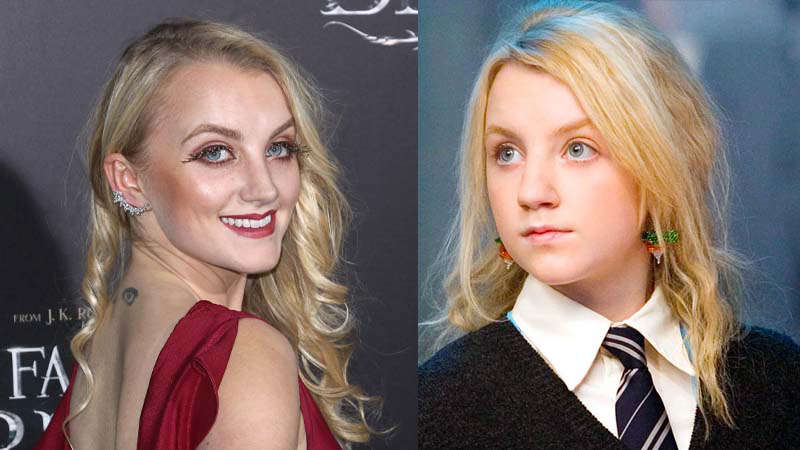 Adult and child version of Evanna Lynch                                  Image: Gettu Via Harry Potter
The actress appeared in G.B.F. (2013), which premiered at the Tribeca Film Festival to much applaud. She made her stage debut in Houdini as Bess Houdini, which toured the UK in 2013.
The U.S actress also starred in the indie drama My Name Is Emily, which premiered at the 2015 Galway Film Fleadh to critica
The pair parted  continued with their acting work, and Lynch has even released a book. Titled The Opposite of Butterfly Hunting, Lynch's novel was released yesterday, October 14.
She told  US Weekly she rehearsed conversations before going on set with the film's main stars Daniel Radcliffe, Emma Watson and Rupert Grint.
The Louth native said: "Emma was always so nice to me and made an effort to get to know me and make me feel at home, which was a huge deal coming from her."
"And because I was such a big Harry Potter fan, I was very nervous around those three and intimidated by them."
Share On

Categories

Date