By Tim Parsons-
Deontay Wilder has launched a scathing attack against Tyson Fury by claiming the former  unbeaten heavyweight champion is conducting a mental health promotion which the American describes as "old news".
WBC champion Wilder said   Fury's promotion of mental health and his own struggles is 'dying out' with fans in America. 'It's just all an act, he's trying to look like he's in control.' Wilder's promoter, Shinkel recently rubbished a claim by Fury that a February  2020 date had been arranged for their  fight, clarifying that February was just one of the available dates. The false announcement, covered by the British press, appears to have been presented as a reflection of Fury's mental health problems.
Wilder told 785 Sports Tv :
''He's [Fury]trying to get his fans to see it as if he's the man in control which he's not. 'I don't mean to say this in a cocky way but everyone knows who holds the key in the heavyweight division, everyone knows who is running the heavyweight division and that's Deontay Wilder. ''
From the style of clothes I wear to the dramatic knockouts, my performances, the dramatic knockouts I perform every time, these guys ain't doing it, I'm doing it. 'If you look at everyone else's knockout videos and then look at mine it's day and night. 'Fury must sound the part and must act the part but he really has nothing to go off of. 'The only thing he really has to go off of is beating a dead horse with the mental illness thing, that's it. 'But he's going to find in America that's yesterday's news, that's an old story, in America we want what's fresh and what's new.
'There are millions who have faced this illness, it's a thing that can be overcome, so many people have overcome it, he wants to come up with this story, it's something he's holding on to, the mental illness thing is dying out.
Fury doesn't want fight me no more, I knocked him out already, if it wasn't for that referee it's over with. 'The judges had it right, it was a very, very close fight. 'If Ruiz is clear and my path is clear after [Luis] Ortiz and he wants to unify then why not? I don't see anyone standing in the way of that, that's the new big fight now.'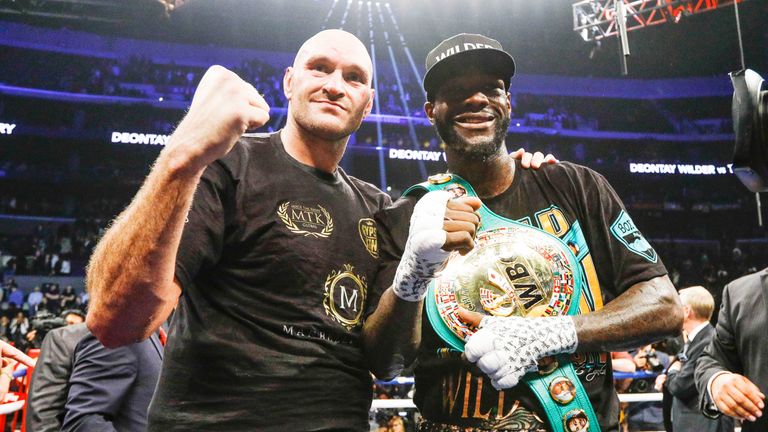 Unbeaten Heavy weight Champs:  Tyson Fury(left) and WBC king, Deontey Wilder(right)
Wilder who blasted out Dominic Brezeale in one round last May, faces tough Cuban Luis Ortiz, in a rematch fight this September. Ortiz, who has lost just once to the heavy hitting American, came very close to stopping Wilder in the 7th round of their first fight in March 2018, before Wilder knocked him out in the 10th round.
Wilder, who has now won 41 of his 42 fights,(40Ko's) with one draw is taking a big risk in facing Ortiz in a rematch before his plans to meet Fury again. A convincing victory for Wilder will be a huge statement.'
Share On

Categories

Date