By James Simons-
A father and his partner have been found guilty of the killing of six-year-old Arthur Labinjo-Hughes.Tustin was convicted of murder and Hughes found guilty of manslaughter.
Young Hughes was starved and tortured by Thomas Hughes and Emma Tustin, eventually dying of a head injury while in the care of his stepmother.
In court, the pair had been described by prosecutors as "utterly ruthless, unthinking and pitiless".
Arthur was himself of bad stock, his biological mother had  been jailed for stabbing her own partner to death.
Coventry Court heard that Tustin shook him and banged his head on a hard surface after poisoning him with salt, the court heard.
Hughes and Olivia Labinjo-Halcrow had shared custody of their son until her arrest for killing 29-year-old delivery driver Gary Cunningham in their home at Frensham Way, Birmingham, in February 2019.
Following the verdicts the jury asked if they could hold a minute's silence for Arthur, which they were allowed to do. They were also excused from sitting on another jury for life.
They heard weeks of harrowing evidence, including how Arthur was force-fed salt-laced meals, kept isolated in the home, starved, dehydrated and routinely beaten.
He was forced to "stand like a statue" near the front door for hour after hour, and on another occasion his father cut up two of his Birmingham City shirts as punishment.
Jurors were also shown audio and video clips recorded in the final weeks of Arthur's life, including CCTV from an in-lounge camera on the morning before he was fatally injured, where he appeared to limp and cry, and struggled to fold up a duvet he had been given to sleep on downstairs.
In one audio clip, Arthur could be heard crying "no-one loves me," repeating the phrase four times, while in another he cries "no-one's gonna feed me" seven times.
Arthur was "scarcely able to articulate his words" and could no longer support his own weight by the time of his murder.
During Tustin's evidence, prosecutor Jonas Hankin QC said it was clear from the tone of her commands to Arthur that she had "relished" being cruel towards him.
While Tustin was accused of carrying out the fatal assault by violently shaking him and repeatedly banging Arthur's head on a hard surface after poisoning him with a "salt slurry", Hughes was "complicit in the violence," prosecutors had told jurors.
Despite medical evidence suggesting there was no way Arthur could have self-inflicted his fatal injuries, Tustin maintained she was not responsible.
Video was shown to the court of Arthur struggling to pick up his pillow and blanket at his home
She took a photograph of Arthur on her mobile phone as he lay dying in the hallway, sending the image to Hughes, the court heard.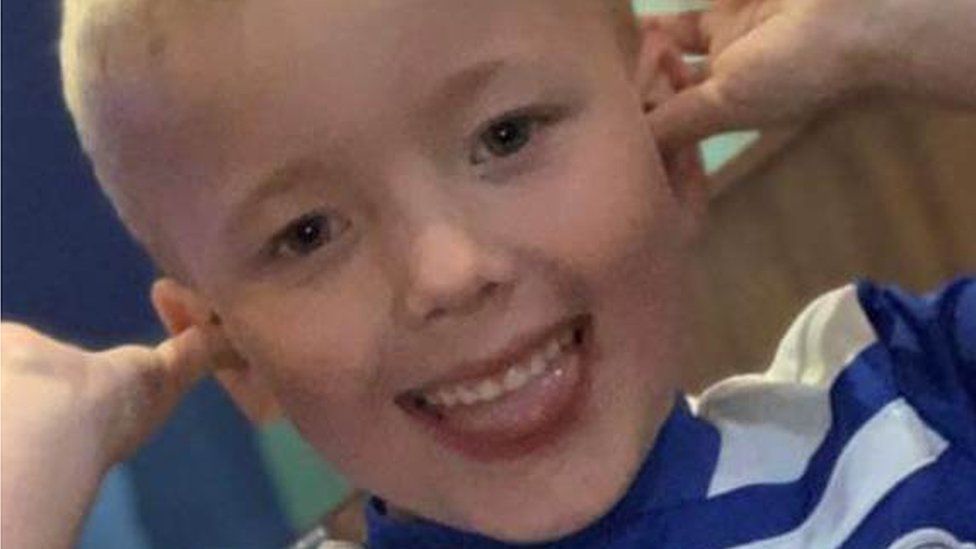 Tragically Killed:     Six Year Old Arthur    Labingo Hughes                                                                        Image: Family Handout
The evil woman then took 12 minutes to call 999, lying to medics that Arthur "fell and banged his head and while on the floor banged his head another five times", later claiming he must have thrown himself down the stairs, despite evidence he was barely strong enough to pick up his own bedding.
Although he was not present for the fatal assault on Arthur, prosecutors argued Hughes was equally culpable as he "encouraged" violence against his son, as well as dealing out beatings himself.
The court previously heard Hughes made a number of threats towards his son, including to "put him six feet under", and had also sent Tustin messages such as "just end him".
The court also heard Arthur had told others his "dad was going to kill him", he expressed this to his wider family, his doctor and his school.
Speaking after the verdicts, Arthur's maternal grandmother, Madeleine Halcrow, called them "wicked" and "evil" and described their behaviour as "unfathomable".
"I think they are cold, calculating, systematic torturers of a defenceless little boy. They're wicked, evil. There's no word for them, especially your own child," she said.
Arthur had been seen by social workers just two months before his death, after concerns were raised by his paternal grandmother Joanne Hughes, but they concluded there were "no safeguarding concerns".Those social workers must now hide their faces in shame.
An independent review is now under way into the authorities' contact with Arthur before his death.
Share On

Categories

Date