By Ashley Young And Victoria Mckeown –
Ant and Dec have won the National Television Awards for the 20th time in a row, establishing themselves as the UK's favourite TV hosts .
The TV favourites  stood head and shoulders above their competitors in a classy demonstration of champions  television presenting.
At the London 02 arena on Thursday, Donnelly described their win as "overwhelming", while McPartlin said: "You've no idea how special this is." Other winners included Line of Duty, Gogglebox and It's A Sin, all of whom where buzzing with excitement at their victory.
The BBC, ITV and Channel 4 dominated the top categories – with the Ricky Gervais's Netflix comedy After Life marking the only prize for a streaming service.
"We were talking in the car on the way here and the first year we won a NTA, Tony Blair was the prime minster and Newcastle United qualified for the Champions league. That just goes to show how long ago that was.
"But this one means the most – 20 years, I'm shaking,"Donnelly added: "It's pretty overwhelming to be honest with you. So much has changed in both of our lives since 2001, but one thing that hasn't changed is how unbelievably grateful we are that you take time, year after year, to vote for us and put us up here."
"We are so honoured and humbled and grateful. It means the absolute world."
Line of Duty received a special recognition award and was also named best returning drama, despite complaints from some viewers who were disappointed by the conclusion of the sixth series.
"This means so much," said star Martin Compston as he thanked viewers and paid tribute to creator Jed Mercurio.
"We started as a wee show on Wednesday night on BBC Two, and now we're the biggest drama on TV. And it's all because of the fans, we owe everything to you,"
"We genuinely don't take this for granted, thank you and who knows – maybe we'll be back again."
"I'd like to dedicate this award to all the people we've lost sadly over the past 18 months," Malone said. "Andy, Pete, Mary and everybody's favourite grandma, June, who's now reunited with Leon."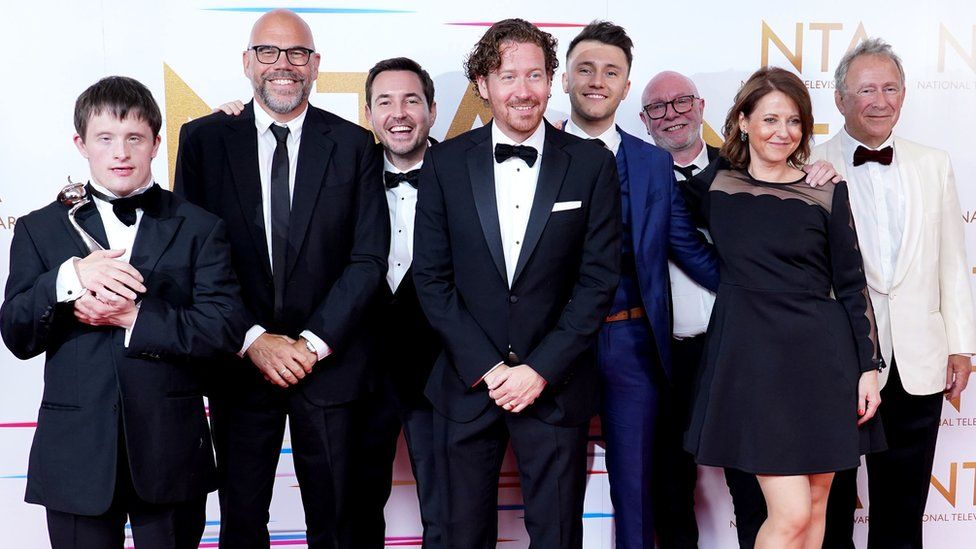 Line Of Duty celebrate impressive victory                                                                        Image:PA Media
Documentary Win For Outstanding Garraway
Kate Garraway looked dashing in her fashionable black outfit, as she celebrated winning the new authored documentary category for Finding Derek, which followed her husband Derek Draper's long battle with Covid-19.
The outstanding English broadcaster and journalist is currently a co anchor for ITV breakfast show, Good Morning Britain, and presenter of Mid Mornings with Kate Garroway on Smooth Radio. The accomplished journalist was  formerly a journalist for ITV News Central and subsequently a co-presenter of ITV News Meridian. From 2000 to 2010, she co-presented GMTV.
Delighted and over the moon, she said: "Thank you so much for voting," Garraway said. "I wonder if the reason why you did is that our story is your story. I think we've all been touched by the pandemic, whether it's livelihoods, mental health, all the other extraordinary documentaries that have been highlighted and nominated tonight, they've also been affected by the pandemic."
She told families still suffering the effects of coronavirus: "Whatever you're going through, you're not forgotten. We want the joy back. We want it to be over, but if you're still living with the scars, the fight goes on.
"But most of all, Derek, who should be here and should have had the chance to tell his own story – Derek, you're going to get the chance, believe. The hope is real."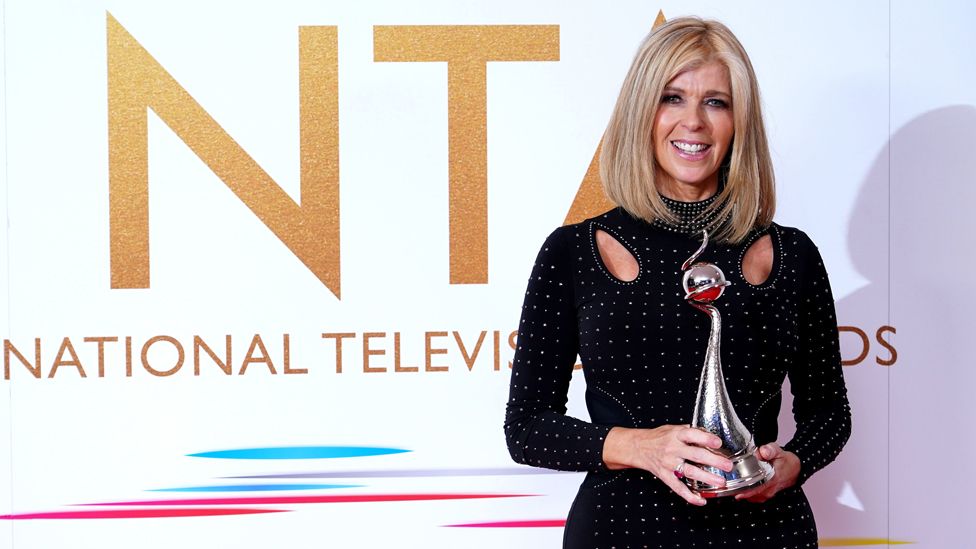 Glamarous Kate Galloway was ecstatic after NTA Awards victory
One big name absent from the awards was Piers Morgan, whose plea for winning votes fell on deaf ears, as the former television presenter's hope of overthrowing the prolific champions of television presenting were dashed when he failed to pick up enough votes.
When Morgan's name was called, alongside a clip of him grilling former health secretary Matt Hancock during the early days of the pandemic, a  chorus of boos resounding around the audience , mixed with some cheers which were drowned by the boos.
Reacting on social media  to the news, Piers  tweeted: "Wow! What a shock! Congrats to Ant & Dec. Thoroughly deserved 20th consecutive win – the way they held those jungle contestants to account during the pandemic was absolutely brilliant."
"Just as well I'm not there," he added, alongside a gif of himself storming off the Good Morning Britain set earlier this year.
Prior to the ceremony, Piers urged his fans to vote for him, in a statement to support free speech.
He said: "If you believe in free speech & holding public figures to account, and you're sick of Ant & Dec winning Best TV Presenter every bleeding year, you know what to do.
Channel 4 drama It's a Sin, which followed a group of friends in the 1980s during the Aids crisis, was named best new drama.
"Honestly this show is so brilliant from everybody in the cast to the crew, production, behind the scenes. It was the hugest privilege of my life to be a part of it," said the show's star Olly Alexander.
Writer Russell T Davies added: "This is a story in which many people lost their lives, so it's nice to dedicate this to those we lost, those who lived, those who learned, and those we loved."
A video montage introduced by Sir Trevor McDonald reflected on the impact Covid-19 had on the UK, as well as rounding up other major news events since the last NTAs ceremony aired in January 2020.
The death of the Duke of Edinburgh, Prime Minister Boris Johnson being admitted into intensive care after contracting Covid-19, the announcement of the vaccine and England making it to the Euro 2020 final were all highlighted in the montage which reflected an eventful 18 months for the UK.
Share On

Categories

Date