By Gabriel Princewill-
Tyson Fury's clash with Derek Chisora this Saturday may be a business orientated money-spinning affair, which will nevertheless be action packed while it lasts.
Chisora is known for going for the kill from the very first bell, explosive forward action is the only way the Zimbabwe born warrior, raised in a well to do family, knows how to fight.
Fury weighed in slightly heavier than Derek Chisora before their WBC heavyweight title fight on Saturday at the Tottenham Hotspur Stadium, coming in at 19st 2lb, while challenger Chisora weighed 18st 8lb.
"Expect carnage on Saturday. We're going to put on an absolutely brilliant fight," Fury said.
Tyson Fury has won 32 of his 33 fights, with just once draw against the heavy punching Deontey Wilder, while Derek Chisora has a record of 33 victories and 12 defeats.
The unbeaten world champion has reacted badly to all criticism at his choice of opponent, ignoring the historical fact that world champions of his stature have always selected better rated opponents even for voluntary warm up title defences preceding a major title fight. The frequent profanities he utters accentuates his bad boy rebellious image but does not equate the sort of ambassadorial role one would rather accord to one in the gypsy king's dominant position. It is not befitting of the kind of role model one would wish for a heavyweight champion of the world.
The choice of Chisora was slightly odd, given the fact he has beaten the Londoner twice already, Fury had no grounds to get upset. He ought to be able to make his case calmly and collectively when dealing with journalists.
Saturday's carefully selected fight comes with a measured risk of an upset, but with maximum rewards.
It also denes fight fans of the necessary level of intrigue that conventionally accompanies heavyweight title defences.
As a reigning world champion, Lennox Lewis never took a warmup fight against an opponent with so many losses, but Fury is an enigma in a world of his own.
Fury convincingly beat Chisora in 2011 in a landslide decision, and compellingly outclassed him three years later in 2014, stopping him in a one sided 10 round affair. A third fight is not a contest fights really would have wanted to see, but the two massive fighters can be trusted to make it a show worth watching.
Both men have advanced since their last encounters, but Chisora has incurred a lot more losses since then and invariably added more miles on the clock. Fury has evolved into the dominant champion of his era merging tactical ability with agility and a newfound explosive power.
Fury's promoters understandably could not present him with a dangerous opponent capable of scuppering the unified world title fight that lies ahead against unbeaten Olegsander Usyk.
However, several boxing pundits hold the view that Fury's incredible physical properties allied to his braggadocious nature makes it somewhat imperative that every opponent he faces is at the very least deserving of a shot- not brought in just to feel in a gap.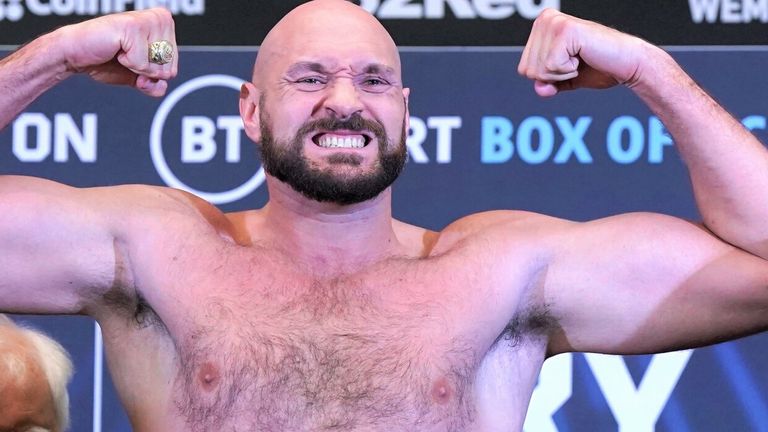 Tyson Fury is favourite to beat Fury on Saturday                                                 Image:news.sky.com
The unbeaten world champion's assertion that Chisora always brings his A game to the ring is not wrong,
Notwithstanding, the comprehensive manner in which the gypsy king dismantled Chisora in their last outing in 2014, raises the legitimate question of what this fight will achieve for Fury besides a good sparring working out in which both men earn another big pay day.
Unarguably the division's best, Fury can do what he wants, and is at this point of his career pursuing a memorable legacy in the long run, having amassed enough money to last a lifetime. His property is adorned with luxurious cars, and he has a family that gives him joy.  Legacy is all that remains to be established.
A slated fight with Britian's Anthony Joshua fell through after the latter did not sign a contract within Fury's deadline, after a two week wait. Fury said Joshua was lucky he was giving him a world title shot and chucking him a bone, and therefore had no power to dictate anything.  He described him as "an invited guest at my party, my rules, so if you want to play the game, come to the banquet and take your seat." Joshua's team said they needed more time to review the contract, leading Fury to pull out and conclude that Joshua did not want the fight. In reality, it was a bad time for Joshua to face Fury, so the world champion handed Chisora the opportunity.
Work Out
Chisora is poised to provide a safe workout for his gargantuan opponent but will be expected to fold up around the fifth or sixth round, like Dillian Whyte did.   His all-out fighting style will suit Fury, who can either switch or face his man head on in the ring.
An intriguing chief support on Saturday's undercard will see Britain's 22-year-old Daniel Dubois defend his WBA (regular) belt against South Africa's Kevin Lerena, who has only lost one of 29 fights. Dubois weighed in at 17st 2lb with Lerena at 16st 6lb.
Dubois was once a heavily touted heavyweight prospect, before he succumbed to fellow Briton Joe Joyce in November 2020 in a gruelling contest which Dubois was marginally winning until he was forced to submission by his tough and resilient opponent. Joyce took the best Dubois had to offer, forcing the slight favourite to quit on his stool due to a dmaged eye socket.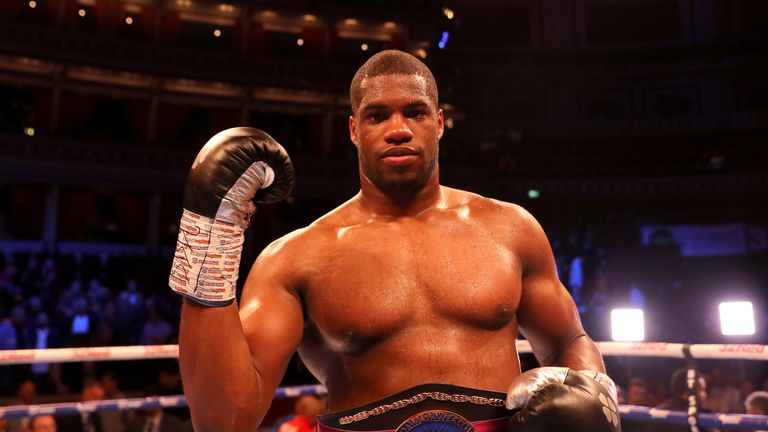 Future prospect: Daniel Dubois                                                                              Image: news.sky.com
Joyce has subsequently proved his grit by withstanding the vicious attacks of former world champion, Joe Joyce, before knocking him out in 11 rounds. Victory against Lerena on Saturday will put him next in line for the WBA proper belt, one of those held by Usyk- meaning he could face the winner of Fury V Usyk next following a victory on Saturday.
Dubois at 22 has an attacking fighting style that could make him a major attraction if he continues to win and eventually wins a bonified world title. He is considered to be one of the big names for the next generation.
His fight with Lerena is more of an evenly matched affair, but one he must win to stay on track for greater things. Defeat will shatter his hopes of any meaningful progress in the forseeable future.
Share On

Categories

Date