By Gavin Mackintosh And Victoria Mckeown-
Ofsted Boss, Amanda Spieldman has defended  the decision of Ofsted to begin its inspection process in schools as the right step, in the face of complaints and opposition about the plans.
Spieldman said a number of previously  rated outstanding primary  schools are showing weakness in their quality of education, in aspects such as curriculum design and subject knowledge.
She said weaknesses in phonics and reading are a common feature of many primary schools, a statement that brings sharp attention to teaching skills and academic training by parents at home.
'They reflect reading curriculums that haven't moved on in a long time, and children not being taught systematically and well', she said.
'More broadly, we're also seeing weakness in behaviour, as well as in leadership and governance,  she added.
Ofsted  has been handed £23m by the British government to  accelerate inspections and  assess the recovery process of schools across the Uk.  The education inspectorate watchdog said that beginning with last term's inspections, all schools and further education providers will now be inspected at least once by the summer of 2025.
On Wednesday, former Covid recovery tsar, Sir Kevan Collins, who resigned this year over the government's 'half-hearted' education catch-up plans, questioned the timing  for Ofsted inspections which he said is frightening for school heads.
He was responding to a question by an audience member at the Schools and Academies Show conference panel event in Birmingham.
Sir Collin's comments come after the government revealed this week that it has handed over £23m to Ofsted to speed up inspections to assess schools' Covid recovery progress.
He said: "I am not sure this is the right time to do the kind of inspection we are doing. I do think inspection has a place within our system but there is something wrong in that people are frightened of it, there is something incorrect in that."
Sir Kevan said: "It is not an oxymoron to wish to consider an idea of an intelligent accountability framework in this country. I don't think we have one.
"I think people are far too fearful of the accountability structures and what it ends up doing is abdicating responsibility to accountability."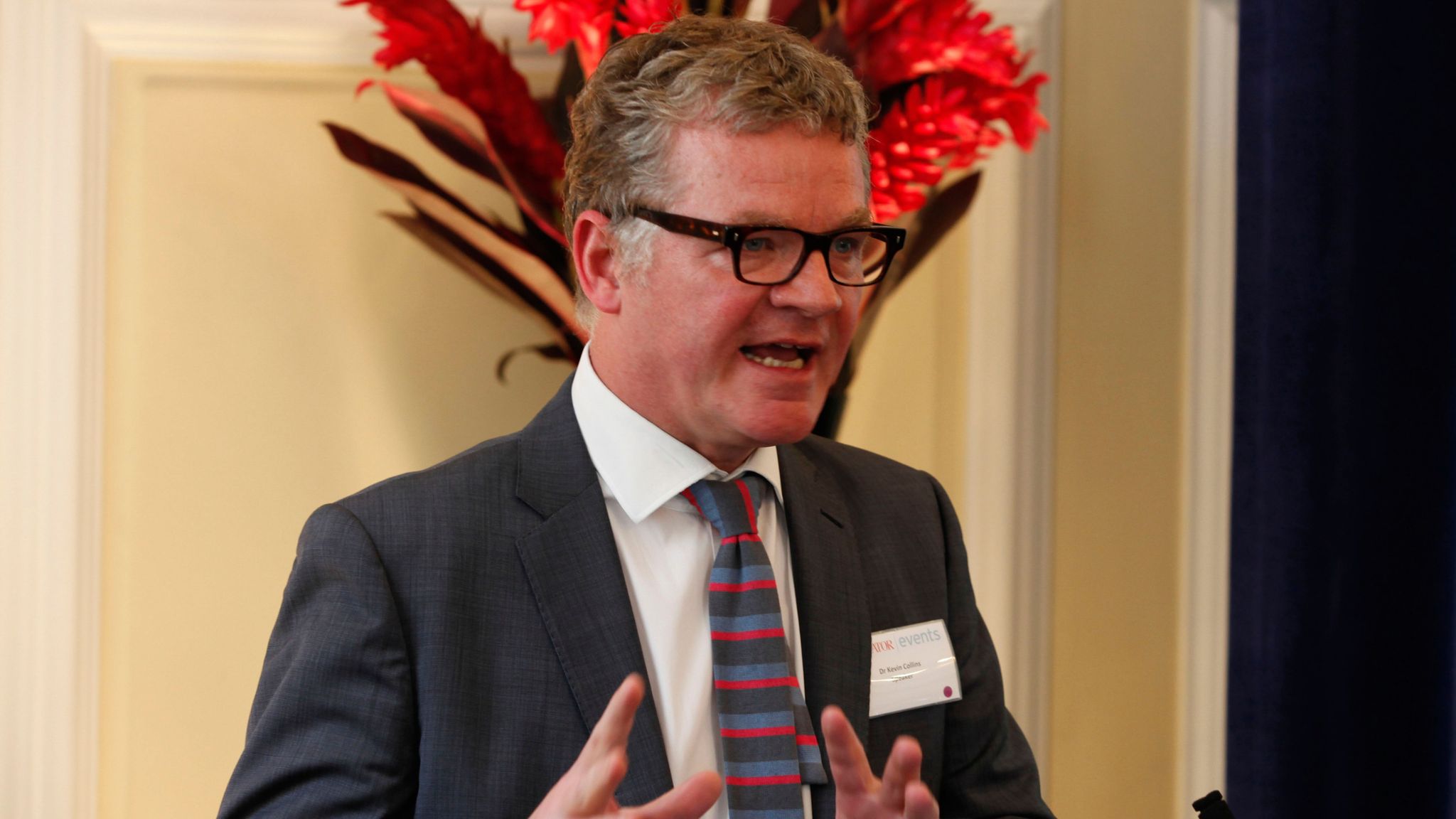 Sir Kevan Collins is critical Of Timing Of Ofsted inspections                             Image:news.sky.com
However, addressing  the same  audience at the 2021 Schools And Academies Show,  Ms Spieldman  defended the decision for ongoing inspections now's the time to move forward, not back.
She assured concerned schools that the acceleration of inspections would not begin until 2022.
"Given the last 20 months, it's actually never been more important for us to be in schools, seeing what's happening for children; having conversations with teachers; building on what we learned through our visits last year. That's the right thing for parents and it's the right thing for children.
"But the long-term impact of the pandemic is still uncertain. And it's often said, but true – children have one chance at an education. So, it's up to all of us – the whole system, including Ofsted – to make sure that it's the best education possible.
"I don't need to tell you how critical this period of recovery is. You know just how much children have missed. Some have lost out more than others; almost all have been affected. So at a time when everyone is focused on getting back on track, we have been asked to do our inspections a bit more quickly.
'Please, rest assured – we aren't going to be turning up at every school imminently! The acceleration won't start until September 2022, since we've pretty much fixed our inspection schedule for this year. But it does mean that we can reduce the time it takes to get to every school. Some of you have been inspected already this year, and we plan to visit all of you by summer 2025.
"This has to be better for children. It gives schools more timely assurance and up to date information for parents, and it'll help government understand how the recovery effort is going.
"And so far, we're seeing some encouraging signs that children are bouncing back. And many of you are doing excellent work here, making sure you understand where children are and finding the gaps. Taking careful decisions about curriculum – what's essential for children to know, so they can get back up to speed? What's less important?
Behaviour
Spieldman also made reference to  expectations around behaviour in schools , but barely touched on a problem affecting the quality of education in many schools. Instead, she talked about" making school normal and fun such as getting those clubs up and running".
Bad behaviour has long been a problem in many Uk schools, though many schools have strict policies that tackle behaviour in schools, and which have produced very well behaved pupils who are compliant, disciplined, and hardworking. Several other schools  suffer with very badly behaved children, who are a nightmare for children, and set other pupils back.
The duty to establish well behaved schools has always been left to schools, without the proper intervention of the Department Of Education, or any solutions from Ofsted, who are just focused on assessing the standards of schools as a whole.
Isolation has generally been the mechanism used to discipline badly behaved children, and this works for some schools, but not others. A more effective framework to ensure good and acceptable behaviour is necessary for all schools in the Uk, in order to maximise the quality of education children receive in schools.
Mainstream schools generally have less well behaved pupils than pupils attending private schools, although some private schools also have badly behaved children.
Parents have a duty to contribute to the behaviour of their children at school, but many parents lack the leadership skills to train their children correctly, especially where they themselves do not behave well or set good examples for their children to see.
Attendance
Ms Spieldman also  said the Department Of Education had specifically asked for problems surrounding attendance to be dealt with, saying that many pupils have disengaged from education due to anxieties surrounding Covid-19.
"But it's clear that the tried and tested ways of dealing with persistent absence still work. Essentially, those of you doing really well on this have kept on doing what you do best: making sure parents understand your high expectations; not letting up when children don't attend; listening to the reasons why, and offering solutions. And focusing, as ever, on making learning really worthwhile, so children want to attend. That's working just as well now as it did before the pandemic".
P.S: This article was contributed to by both  named authours
Share On

Categories

Date