By Ashley Young-
A woman who stabbed her boyfriend after an argument in their home has been jailed for 5 years .34 year old Simone Fergus of Zenith Close, Colindale, was sentenced on Friday after pleading guilty to the manslaughter of tragic 26 year old Raul Chirac.
Jurors at Wood Green Crown Court heard police were called to their home at 6pm on April 15 after reports of a stabbing.
The London's Air Ambulance found Raul at the scene suffering from a single stab wound, he was taken to hospital and died later that evening. Evil Fergus was arrested at the scene and arrested on suspicion of murder. The pair had suffered from a turbulent relationship in which frequent arguments and fights had become a part of their lives. Each of them should have walked out of the relationship, but a friend of Chirac told The Eye Of Media.Com:
"the relationship should have been over a long time ago, but they were always fighting and getting back together. Simone was very paranoid and didn't trust him, she had a high temper, and I believe she had mental health issues too. Raul was a col and good looking guy, the ladies fancied him, and I don't think Simone would have been happy with that. I think he should have walked from the relationship. It's so sad it ended like this".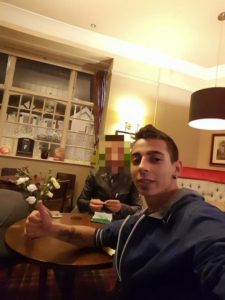 Tragic Raul Chiriac. Picture: Facebook
A post-mortem gave his cause of death as haemorrhage following a stab wound penetrating the lung.
Fergus was arrested at the scene on suspicion of murder. Jurors at Wood Green Court heard the pair had a turbulent relationship. This murder is another reminder why men or women in abusive relationships she leave whilst they can, instead of finding excuses to continue to stay in a violent relationship.
Det Insp Justin Howick, from the Met's murder squad, said: "This is a tragic case. I hope that Fergus' plea and sentence can bring some degree of comfort to Raul's family.
Share On

Categories

Tags

Date